Auriculotherapy: A medical method in the diagnosis and treatment of diseases by using the auricle
Keywords:
Auriculotherapy, auricular acupuncture, ear acupuncture
Abstract
Auriculotherapy is a medical method which uses the auricle in the diagnosis and treatment of diseases and is considered as a neuromodulatory technique. It is discovered by Dr. Paul Nogier and it also has led to the emergence of auricular acupuncture in the world. Although Dr. Nogier is the father of both auriculotherapy and auricular (ear) acupuncture, it is important to know that auriculotherapy does not depend on traditional chinese medicine theory but rather depends on classical medicine. Auriculotherapy treatments are planned according to physiopathology and neurophysiology of the diseases. There is no need to learn chinese medicine theory in order to be able to practice auriculotherapy. However, the legal regulations in most parts of the world do not distinguish between auriculotherapy and auricular acupuncture and therefore physicians who want to practice auriculotherapy must learn and obtain certifications for traditional chinese acupuncture which requires a long time and effort and which is a complete different medical system based on chinese philosophy. Seperating auriculotherapy educations from acupuncture education and certification programs will produce many positive effects for the physicians who would like to practice this treatment modality as an adjuvant to their own practices.
References
Hou PW, Hsu HC, Lin YW, Tang NY, Cheng CY, Hsieh CL. The History, Mechanism, and Clinical Application of Auricular Therapy in Traditional Chinese Medicine. Evid Based Complement Alternat Med. 2015;2015:495684.
Nogier R. History of Auriculotherapy: Additional Information and New Developments. Med Acupunct. 2021;33(6):410-9
Nogier R, How Did Paul Nogier Establish the Map of the Ear? Medical Acupuncture. 2014; 26 (2):76-83.
Rabischong P, Terral C. Scientific Basis of Auriculotherapy: State of the Art. Med Acupunct. 2014;26(2):84-96.
World Health Organization. Report on the Working Group on Auricular Acupuncture Nomenclature, Lyon, France, 28-30 November 1990. No. WHO/TRM/91.2.
Mercante B, Deriu F, Rangon CM. Auricular Neuromodulation: The Emerging Concept beyond the Stimulation of Vagus and Trigeminal Nerves. Medicines (Basel). 2018;5(1):10.
Oleson T. Auriculotherapy stimulation for neuro-rehabilitation. NeuroRehabilitation. 2002;17(1):49-62.
Gueguen J, Barry C, Seegers V, Falissard B. Evaluation de l'efficacité de la pratique de l'auriculothérapie." Institut de la Sante et de la Recherche Medicale (INSERM) (2013).
Morais BX, Ongaro JD, Almeida FO, Luz EMFD, Greco PBT, Magnago TSBS. Auriculotherapy and reducing chronic musculoskeletal pain: integrative review. Rev Bras Enferm. 2020;73(s6):e20190394
Alimi D, Rubino C, Pichard-Léandri E, Fermand-Brulé S, Dubreuil-Lemaire ML, Hill C. Analgesic effect of auricular acupuncture for cancer pain: a randomized, blinded, controlled trial. J Clin Oncol. 2003;21(22):4120-6.
Michel-Cherqui M, Szekely B, Lemoyne F, Feliot E, Gayat E, Fischler M. Auriculotherapy in the prevention of postoperative urinary retention in patients with thoracotomy and thoracic epidural analgesia: A randomized, double-blinded trial. Medicine (Baltimore). 2019;98(23):e15958.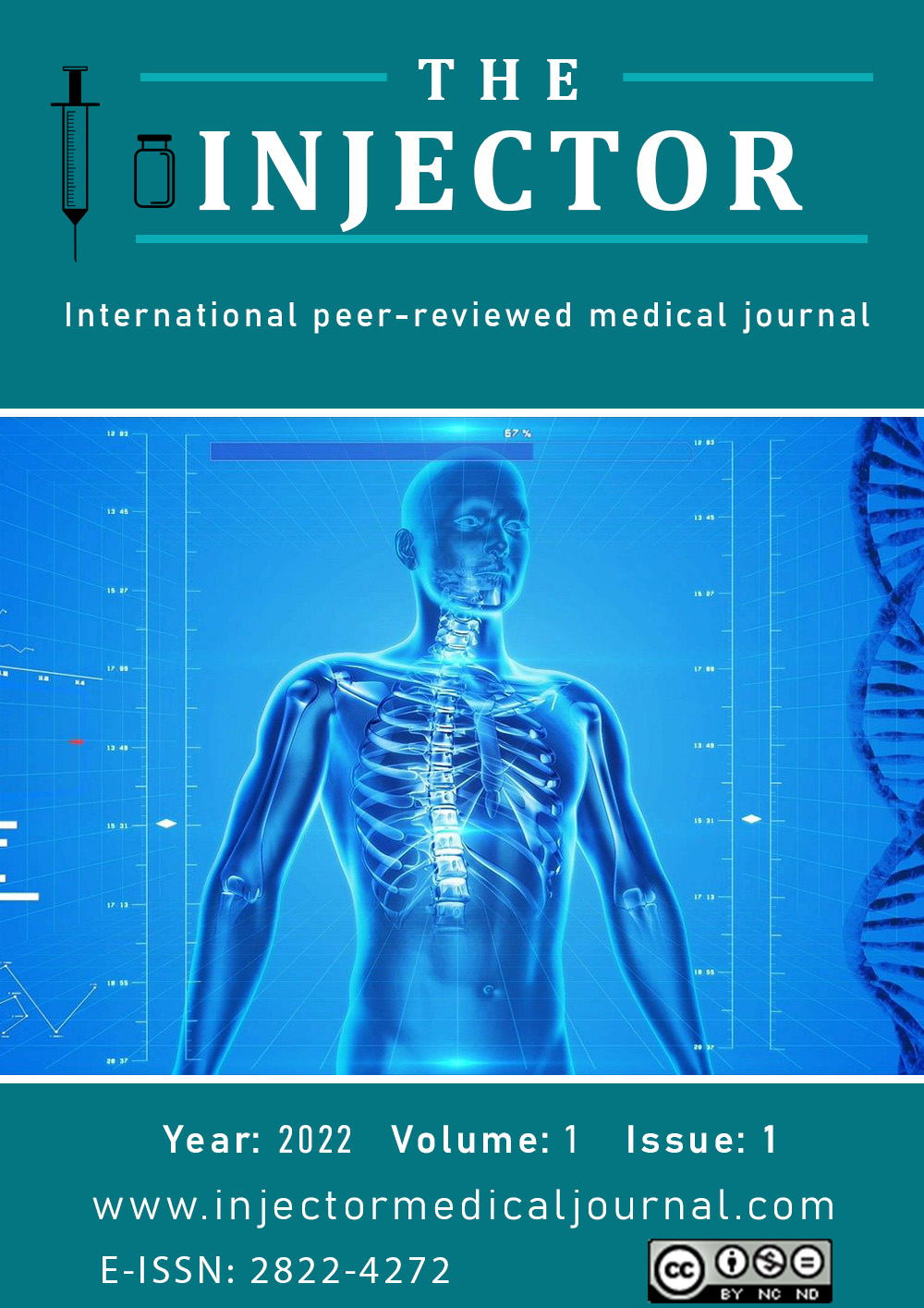 Downloads
How to Cite
Öztürk, S., & Öztekin, C. (2022). Auriculotherapy: A medical method in the diagnosis and treatment of diseases by using the auricle. The Injector, 1(1), 31–35. https://doi.org/10.5281/zenodo.6501627
License
Copyright (c) 2022 The Injector
This work is licensed under a Creative Commons Attribution-NonCommercial 4.0 International License.