Retrospective analysis of scabies cases admitted to a Turkish hospital according to the citizenship status of the patients
Analysis of scabies cases
Keywords:
Immigration, public health, refugees, scabies
Abstract
Objective: Political and armed conflicts cause unprecedented mass migrations from conflict areas. Turkey currently hosts the largest refugee population worldwide. Due to overcrowding and unsanitary conditions, scabies is a serious infectious threat for refugees and host communities. This study aimed to analyze the scabies cases in a Turkish hospital with reference to their citizenship status.
Methods: The study retrospectively covered the period of 2013-2018 during a surge of refugee immigration to Turkey.
Results: A total of 2,317 scabies cases were recorded, of which 227 (9.8%) were non-citizens. The number of citizen patients declined by mid-2015, with fewer than ten patients per month for the following 12-month period almost no non-citizen patient presented before and during this period. After mid-2016, however, there was a surge in scabies cases involving non-citizen or citizen patients.
Conclusion: The study revealed a marked, parallel increase in the number of scabies cases in both populations in 2016–2018 after one year of suppression of scabies that had been present in the citizen population but was short of demonstrating a causal relationship between the cases in two populations. Nevertheless, the temporally overlapping surges warrant comprehensive surveillance and appropriate treatment approaches.
References
Hengge UR, Currie BJ, Jäger G, Lupi O, Schwartz RA. Scabies: a ubiquitous neglected skin disease. Lancet Infect Dis. 2006;6(12):769–79.
Anderson KL, Strowd LC. Epidemiology, diagnosis, and treatment of scabies in a dermatology office. J Am Board Fam Med. 2017;30(1):78–84.
Heukelbach J, Feldmeier H. Scabies. Lancet. 2006;367(9524):1767–74.
Thompson MJ, Engelman D, Gholam K, Fuller LC, Steer AC. Systematic review of the diagnosis of scabies in therapeutic trials. Clin Exp Dermatol. 2017;42(5):481–7.
Chosidow O. Scabies. N Engl J Med. 2006;354(16):1718–27.
Micali G, Lacarrubba F, Verzì AE, Chosidow O, Schwartz RA. Scabies: Advances in noninvasive diagnosis. Vinetz JM, editor. PLoS Negl Trop Dis. 2016;10(6):e0004691.
Karaman Ü, Enginyurt Ö, Dündar Y, Baykal M, Gür S. Infestation of Sarcoptes scabiei and Pediculus capitis in terms of socio-economical status. ODÜ Tıp Derg. 2014;1(2):23-9.
Karaaslan S, Yilmaz H. The distribution of Pediculus humanus capitis among primary school pupils of the Turkish chamber of commerce and stock exchange organisation in Van. Turkish J Parasitol. 2015;39(1):27–32.
Ciftci IH, Karaca S, Dogru O, Cetinkaya Z, Kulac M. Prevalence of pediculosis and scabies in preschool nursery children of Afyon, Turkey. Korean J Parasitol. 2006;44(1):95-8.
Metin A, Yilmaz H, Arica M. Van ve çevresinde 1994-1998 yılları arasında uyuzun durumu. Turkderm-Arch Turk Derm. 1999;33(1):40–4.
Yazar S, Kuk S, Cetinkaya Ü, Gözkenc N, Sahin I. Investigation of Sarcoptes scabiei in scabies suspected patients. Kafkas Univ Vet Fak Derg. 2012;18:A85-7.
Mellanby K. Transmission of Scabies. Br Med J. 1941(2):405–6.
United Nations High Commissioner for Refugees (UNHCR). Global Trends: Forced Displacement in 2017. Geneva: UNHCR. https://www.unhcr.org/5b27be547.pdf. (Accessed June 2021).
Isenring E, Fehr J, Gültekin N, Schlagenhauf P. Infectious disease profiles of Syrian and Eritrean migrants presenting in Europe: A systematic review. Travel Med Infect Dis. 2018;25:65–76.
Republic of Turkey Prime Ministery Disaster and Emergency Management Authority. Field survey on demographic view, living conditions and future expectations of Syrians in Turkey. https://www.afad.gov.tr/kurumlar/afad.gov.tr/25335/xfiles/17b-Field_Survey_on_Demographic_View_Living_Conditions_and_Future_Expectations
_of_Syrians_in_Turkey_2017_English_1.pdf (Accessed Jan 2021).
United Nations High Commissioner for Refugees (UNHCR). UNHCR Population Statistics Database. https://www.unhcr.org/refugee-statistics/ (Accessed Jan 2021).
van Berlaer G, Bohle Carbonell F, Manantsoa S, de Béthune X, Buyl R, Debacker M, et al. A refugee camp in the centre of Europe: clinical characteristics of asylum seekers arriving in Brussels. BMJ Open. 2016;6:e013963.
Stich A. Coming in to the cold – Access to health care is urgently needed for Syrian refugees. Travel Med Infect Dis. 2015;13(6):445–6.
Chang AY, Fuller LC. Scabies—An ancient disease with unanswered questions in modern times. JAMA Dermatology. 2018;154(9):999-1000.
Jaton L, Pillonel T, Jaton K, Dory E, Prod'hom G, Blanc DS, et al. Common skin infection due to Panton–Valentine leucocidin-producing Staphylococcus aureus strains in asylum seekers from Eritrea: a genome-based investigation of a suspected outbreak. Clin Microbiol Infect. 2016;22(8):739.e5-8.
Raoult D, Roux V. The body louse as a vector of reemerging human diseases. Clin Infect Dis 1999;29(4):888–911.
Scott GR, Chosidow O. European guideline for the management of scabies, 2010. Int J STD AIDS 2011;22:301–3.
World Health Organization (WHO). Neglected tropical diseases. https://www.who.int/news-room/questions-and-answers/item/neglected-tropical-diseases (Accessed Jan 2021).
World Health Organization (WHO). Scabies. https://www.who.int/news-room/fact-sheets/detail/scabies (Accessed Jan 2022).
Cetinkaya U, Sahin S, Ulutabanca RO. The Epidemiology of Scabies and Pediculosis in Kayseri. Turkish J Parasitol. 2018;42(2):134-7.
General Directorate of Migration. Migration Statistics. Republic of Turkey Ministry of Interior. http://www.goc.gov.tr/icerik/migration-statistics_915_1024. (Accessed Feb2020).
Karimkhani C, Colombara DV, Drucker AM, Norton SA, Hay R, Engelman D, et al. The global burden of scabies: a cross-sectional analysis from the Global Burden of Disease Study 2015. Lancet Infect Dis. 2017;17(12):1247–54.
Catchpole M, Coulombier D. Refugee crisis demands European union-wide surveillance! Eurosurveillance. 2015;20(45):1.
National Review. Scabies spreads among border detainees.https://www.nationalreview.com/2014/07/scabies-spreads-among-border-detainees-ryan-lovelace/(Accessed Feb2020).
Blitz B, D'Angelo A, Kofman E, Montagna N. Health challenges in refugee reception: dateline Europe 2016. Int J Environ Res Public Health. 2017;14(12):1484.
Beeres DT, Ravensbergen SJ, Heidema A, Cornish D, Vonk M, Wijnholds LD, et al. Efficacy of ivermectin mass-drug administration to control scabies in asylum seekers in the Netherlands: A retrospective cohort study between January 2014 – March 2016. Small PLC, editor. PLoS Negl Trop Dis. 2018;12(5):e0006401.
Arlian LG, Runyan RA, Achar S, Estes SA. Survival and infestivity of Sarcoptes scabiei var. canis and var. hominis. J Am Acad Dermatol. 1984;11(12):210–5.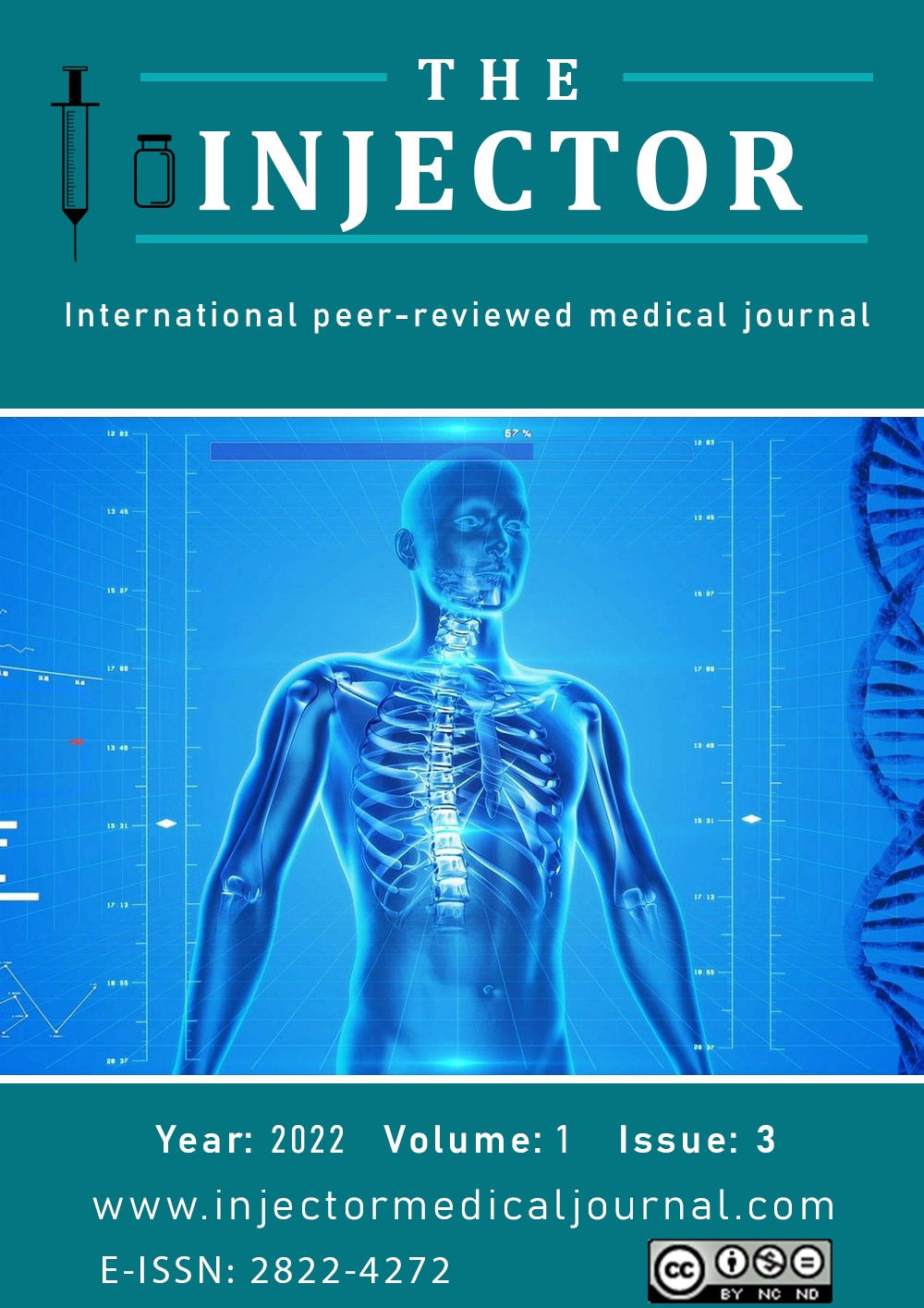 Downloads
How to Cite
Öztekin, C. ., Öztekin, A., Şenel, E. ., Güreser, A. S. ., Tekindal, M. A., & Taylan Özkan, A. (2022). Retrospective analysis of scabies cases admitted to a Turkish hospital according to the citizenship status of the patients: Analysis of scabies cases. The Injector, 1(3), 97–105. https://doi.org/10.5281/zenodo.7250314
License
Copyright (c) 2022 The Injector
This work is licensed under a Creative Commons Attribution-NonCommercial 4.0 International License.