Experience of Measles-Mumps-Rubella vaccine among children with egg allergy
Measles-Mumps-Rubella vaccine and egg allergy
Keywords:
Anaphylaxis, children, egg allergy, measles-mumps-rubella vaccine
Abstract
Objective: Due to the egg protein contained in the vaccine, patients with egg allergy have had hesitations about Measles-Mumps-Rubella (MMR) vaccination for a long time. We aimed to share our clinical experience on this subject.
Methods: In the descriptive type of study, all 179 patients with egg allergy and received MMR in our clinic between 2015-2022 were included. Age, gender, clinical findings, allergy tests, total IgE, eosinophil values, post-vaccine reaction status were evaluated retrospectively.
Results: The median age of those vaccinated in our clinic is 13.0 months (9.0-84.0). The median value for the calendar delay in the vaccine dose is 1.0 months (min: 0, max: 72.0). The median absolute eosinophil value of the patients was 360.0 103/uL (10.0-2220.0), the median eosinophil value (%) was 3.4% (0.1-20.0%), and the median total IgE value was 53.5 IU/mL (1.0-2500.0). The most common clinical findings were atopic dermatitis and urticaria (54.7% and 44.1%, respectively). There was no patient who developed anaphylaxis before. A post-vaccine reaction developed in 1 of 179 children who received MMR vaccine. Urticaria was observed in this patient. No serious reaction was observed in any of the patients.
Conclusion: Children with egg allergy should be evaluated by pediatric allergy clinics; however, this should not cause a delay in the MMR vaccination schedule.
References
Sicherer SH, Sampson HA. Food allergy: epidemiology, pathogenesis, diagnosis, and treatment. J Allergy Clin Immunol. 2014;133:291-307.
Patel N, Herbert L, Green TD. The emotional, social, and financial burden of food allergies on children and their families. Allergy Asthma Proc. 2017; 1;38:88-91.
Leech SC, Ewan PW, Skypala IJ, Brathwaite N, Erlewyn‐ Lajeunesse M, Heath S, et al. BSACI 2021 guideline for the management of egg allergy. Clin Exp Allergy. 2021;51:1262-78.
Caffarelli C, Giannetti A, Rossi A, Ricci G. Egg Allergy in Children and Weaning Diet. Nutrients. 2022;14:1540.
Samady W, Warren C, Wang J, Das R, Gupta RS. Egg Allergy in US Children. J Allergy Clin Immunol Pract. 2020;8:3066-3073.e6.
Keil T, McBride D, Grimshaw K, Niggemann B, Xepapadaki P, Zannikos K, et al. The multinational birth cohort of EuroPrevall: background, aims and methods. Allergy. 2010;65:482-90.
Xepapadaki P, Fiocchi A, Grabenhenrich L, Roberts G, Grimshaw K, Fiandor A et al. Incidence and natural history of hen's egg allergy in the first 2 years of life—the EuroPrevall birth cohort study. Allergy. 2016;71:350-7.
Tedner SG, Asarnoj A, Thulin H, Westman M, Konradsen JR, Nilsson C. Food allergy and hypersensitivity reactions in children and adults-A review. J Intern Med. 2022;291:283-302.
Magistà S, Albanesi M, Chaoul N, Di Bona D, Di Leo E, Nettis E et al. Safety of measles, mumps, and rubella vaccine in egg allergy: in vivo and in vitro management. Clin Mol Allergy. 2020;18:1-5.
Cerecedo Carballo I, Dieguez Pastor MC, Bartolomé Zavala B, Sánchez Cano M, de la Hoz Caballer B. Safety of measles-mumps-rubella vaccine (MMR) in patients allergic to eggs. Allergol Immunopathol (Madr). 2007;35:105-9.
Çöğürlü MT, Şimşek IE, Aydoğan M. Is MMR vaccination safe in the children with egg allergy? Klinik Tıp Pediatri Dergisi. 2018;10:38-41.
Keleş Ş, Filiz S. Yumurta alerjisi olan çocuklarda kızamıkkızamıkçık-kabakulak aşılaması sonrası reaksiyon durumunun değerlendirilmesi. Pam Tıp Derg. 2020;13:687-693.
Nilsson L, Brockow K, Alm J, Cardona V, Caubet JC, Gomes E, et al. Vaccination and allergy: EAACI position paper, practical aspects. Pediatr Allergy Immunol. 2017;28:628-40.
Yavuz ST, Şahiner UM, Sekerel BE, Tuncer A, Kalaycı O, Sackesen C. Anaphylactic reactions to measles–mumps– rubella vaccine in three children with allergies to hen's egg and cow's milk. Acta Paediatr. 2011;100:e94-e6.
Buczyńska A, Grzybowska-Chlebowczyk U, Pawlicki K. IgE-Dependent Food Sensitisation and Its Role in Clinical and Laboratory Presentation of Paediatric Inflammatory Bowel Disease. Nutrients. 2023;15:1804.
Çiçek F, Köle MT. Evaluation of the Impact of Serum Vitamin D Levels on the Scoring Atopic Dermatitis Index in Pediatric Atopic Dermatitis. Children. 2023;10:1522.
Çapanoğlu M, Giniş T, Büyüktiryaki AB, Toyran M, Vezir E, Kocabaş CN, et al. The evaluation of allergic reaction in patients with egg allergy after measles-mumps-rubella vaccination. Asthma Allergy Immunol. 2015;13:71-75.
Can C, Kural B. Reassessing the risks of MMR vaccination for egg-allergic patients referred by healthcare workers; a clinical paradigm. Iran Red Crescent Med J. 2019;21: e90300.
Bahçeci S, Nacaroğlu HT, Arı HF, Karaman S, Karkıner CŞ, Toprak Kanık E, et al. Measles-rubella-mumps vaccination in cases with egg allergy:Is skin prick test necessary? Can vaccination be done safely? İzmir Dr. Behçet Uz Çocuk Hast Dergisi. 2017;7:129-132.
Barış HE, Boran P, Kıykım A, Barış S, Özen A, Aydıner Karakoç E. Immunization practices in children with a history of allergies. Turk Arch Pediatr. 2020;55:244.
Tsai M-H, Chiu C-Y. Allergic reactions to vaccines in children: from constituents to specific vaccines. Biomedicines. 2023;11:620.
Fox A, Swan K, Perkin M, du Toit G, Lack G. The changing pattern of measles, mumps and rubella vaccine uptake in egg-allergic children. Clin Exp Allergy. 2014;44:999- 1002.
Sayar EH. Yumurta alerjisi olan süt çocuklarında kızamık kızamıkçık kabakulak aşılama deneyimi. Acta Medica Alanya. 2019;3:283-6.
Kara Elitok G, Çelikboya E, Bülbül L, Kaya A, Toraman T, Bülbül A, et al. Does food allergy require any change in measles-mumps-rubella vaccination? Indian J Pediatr. 2019;86:915-20.
Ainsworth E, Debenham P, Carrol ED, Riordan FAI. Referrals for MMR immunisation in hospital. Arch Dis Child. 2010;95:639-41.
Cunha L, Almeida D, dos Santos FR, Falcão H. Measles, mumps, and rubella vaccination in children with egg allergy. Nascer E Crescer-Birth And Growth Medical Journal. 2022;31:25-30.
Khakoo G, Lack G. Recommendations for using MMR vaccine in children allergic to eggs. BMJ. 2000;320:929-32.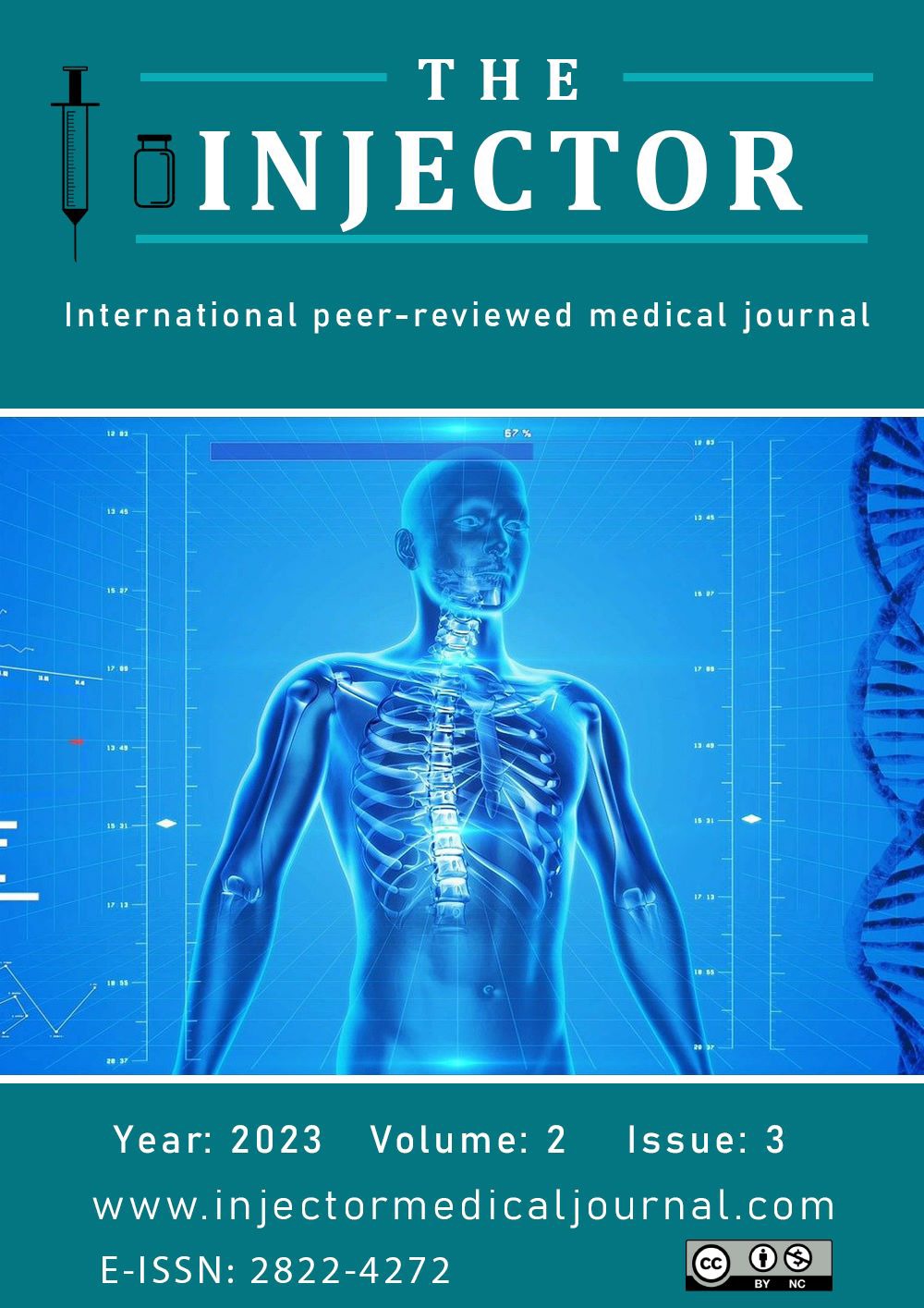 Downloads
How to Cite
Altaş, U., Çetemen, A. ., Altaş, Z. M. . ., Akkelle, E. . ., Özkars, M. Y. . ., & Doğru, M. . . (2023). Experience of Measles-Mumps-Rubella vaccine among children with egg allergy: Measles-Mumps-Rubella vaccine and egg allergy. The Injector, 2(3), 157–162. https://doi.org/10.5281/zenodo.8360297
License
Copyright (c) 2023 The Injector
This work is licensed under a Creative Commons Attribution-NonCommercial 4.0 International License.