CMV colitis in children: Single-center experience
CMV colitis in children
Keywords:
Child, CMV infection, colitis
Abstract
Objective: CMV colitis in children is very rare. We aimed to evaluate the clinical and histopathological findings of the patients with CMV colitis.
Methods: This was a single-center retrospective study.  We enrolled the patients who were histopathologically diagnosed with CMV colitis between January 2010 and April 2022. We investigated their clinical and histopathological findings.
Results: In total 67 patients with diarrhea had positive CMV IgM/ PCR. We enrolled 6 of them who had histopathologic findings of CMV infection determined by Hematoxylin-eosin and immunohistochemistry (IHC) staining. Three (50%) of the patients were female. Two of the patients had no immunodeficiency or underlying disease. The underlying diseases were ulcerative colitis (UC) in 3 (50%) children and common variable immunodeficiency in one (16.6%) of the children. The most common symptoms were bloody diarrhea and hypoalbuminemia. CMV IgM and IgG were positive only in one patient. However, all patients had positive CMV PCR. The affected colon mucosa appeared friable and oedematous in all patients. Two patients (33.3%) had polyps in the transverse and descending colon, three patients (50%) had multiple ulcers in the sigmoid colon, and one patient (16.6%) had erythema in the sigmoid colon. All six patients had positive IHC staining in the colonic tissue. All patients were treated with ganciclovir. Four patients improved however, two patients required colectomy in the follow-up.
Conclusion: CMV colitis may be seen in both immunosuppressive and immunocompetent patients. CMV colitis should be considered especially in the combination of bloody diarrhea and hypoalbuminemia.  Early diagnosis is mandatory for the successful treatment and outcome of the disease.
References
de la Hoz RE, Stephens G, Sherlock C. Diagnosis and treatment approaches of CMV infections in adult patients. J Clin Virol. 2002;25 Suppl 2:S1-12.
Patra S, Samal SC, Chacko A, Mathan VI, Mathan MM. Cytomegalovirus infection of the human gastrointestinal tract. J Gastroenterol Hepatol. 1999;14:973-6.
Goodgame RW. Gastrointestinal cytomegalovirus disease. Ann Intern Med. 1993;119:924-35.
Bayrak NA, Polat E, Erdogan F. Cytomegalovirus Colitis in Immunocompetent and Immunocompromised Children: A 2-Center Study. Pediatr Infect Dis J. 2021;40:1101-7.
Cohen S, Martinez-Vinson C, Aloi M, Turner D, Assa A, de Ridder L, et al; Pediatric IBD Porto Group of ESPGHAN. Cytomegalovirus Infection in Pediatric Severe Ulcerative Colitis-A Multicenter Study from the Pediatric Inflammatory Bowel Disease Porto Group of the European Society of Pediatric Gastroenterology, Hepatology and Nutrition. Pediatr Infect Dis J. 2018;37:197-201.
Criscuoli V, Casà A, Orlando A, Pecoraro G, Oliva L, Traina M, et al. Severe acute colitis associated with CMV: a prevalence study. Dig Liver Dis. 2004;36:818-20.
Kandiel A, Lashner B. Cytomegalovirus colitis complicating inflammatory bowel disease. Am J Gastroenterol. 2006;101:2857-65.
Cottone M, Pietrosi G, Martorana G, Casà A, Pecoraro G, Oliva L, et al. Prevalence of cytomegalovirus infection in severe refractory ulcerative and Crohn's colitis. Am J Gastroenterol. 2001;96:773-5.
Papadakis KA, Tung JK, Binder SW, Kam LY, Abreu MT, Targan SR, et al. Outcome of cytomegalovirus infections in patients with inflammatory bowel disease. Am J Gastroenterol. 2001;96:2137-42.
Vega R, Bertrán X, Menacho M, Domènech E, Moreno de Vega V, Hombrados M, et al. Cytomegalovirus infection in patients with inflammatory bowel disease. Am J Gastroenterol. 1999;94:1053-6.
Ochiai Y, Hoteya S, Kono K, Takazawa Y, Matsui A, Kikuchi D. Cytomegalovirus ileitis with protein-losing enteropathy in an immunocompetent adult. Clin J Gastroenterol. 2021;14:1060-6.
Cakir M, Ersoz S, Akbulut UE. Disseminated cytomegalovirus infection and protein losing enteropathy as presenting feature of pediatric patient with Crohn's disease. Pediatr Gastroenterol Hepatol Nutr. 2015;18:60-5.
Urganci N, Gulec SG, Kalyoncu D, Karaman S. Evaluation of paediatric patients with protein losing enteropathy a single centre experience. West Indian Med J. 2013;62:186-9.
Iwanaga M, Zaitsu M, Ishii E, Nishimura Y, Inada S, Yoshiki H, et al. Protein-losing gastroenteropathy and retinitis associated with cytomegalovirus infection in an immunocompetent infant: a case report. Eur J Pediatr. 2004;163:81-4.
Hoshina T, Kusuhara K, Saito M, Hara T, Mtsuura S, Yano T, et al. Cytomegalovirus-associated protein-losing enteropathy resulting from lymphangiectasia in an immunocompetent child. Jpn J Infect Dis. 2009;62:236-8.
Fattorusso A, Pieri ES, Dell'Isola GB, Prontera P, Mencaroni E, Stangoni G, et al. Intestinal lymphangiectasia in a 3-month-old girl: A case report of Hennekam syndrome caused by CCBE1 mutation. Medicine (Baltimore). 2020;99:e20995.
Takeyama J, Abukawa D, Miura K. Eosinophilic gastroenteritis with cytomegalovirus infection in an immunocompetent child. World J Gastroenterol. 2007;13:4653-4.
Razonable RR, Inoue N, Pinninti SG, Boppana SB, Lazzarotto T, Gabrielli L, et al. Clinical Diagnostic Testing for Human Cytomegalovirus Infections. J Infect Dis. 2020;221(Suppl 1):S74-S85.
Lawlor G, Moss AC. Cytomegalovirus in inflammatory bowel disease: pathogen or innocent bystander? Inflamm Bowel Dis. 2010;16:1620-7.
Nakase H, Herfarth H. Cytomegalovirus Colitis, Cytomegalovirus Hepatitis and Systemic Cytomegalovirus Infection: Common Features and Differences. Inflamm Intest Dis. 2016;1:15-23.
Wolfe BM, Cherry JD. Hemorrhage from cecal ulcers of cytomegalovirus infection: report of a case. Ann Surg. 1973;177:490-4.
Klauber E, Briski LE, Khatib R. Cytomegalovirus colitis in the immunocompetent host: an overview. Scand J Infect Dis. 1998;30:559-64.
Eddleston M, Peacock S, Juniper M, Warrell DA. Severe cytomegalovirus infection in immunocompetent patients. Clin Infect Dis. 1997;24:52-6.
Le PH, Lin WR, Kuo CJ, Wu RC, Hsu JT, Su MY, et al. Clinical characteristics of cytomegalovirus colitis: a 15-year experience from a tertiary reference center. Ther Clin Risk Manag. 2017;13:1585-93.
Kojima T, Watanabe T, Hata K, Shinozaki M, Yokoyama T, Nagawa H. Cytomegalovirus infection in ulcerative colitis. Scand J Gastroenterol. 2006;41:706-11.
Shukla T, Singh S, Tandon P, McCurdy JD. Corticosteroids and Thiopurines, But Not Tumor Necrosis Factor Antagonists, are Associated With Cytomegalovirus Reactivation in Inflammatory Bowel Disease: A Systematic Review and Meta-Analysis. J Clin Gastroenterol. 2017;51:394-401.
McCurdy JD, Jones A, Enders FT, Killian JM, Loftus EV Jr, Smyrk TC, et al. A model for identifying cytomegalovirus in patients with inflammatory bowel disease. Clin Gastroenterol Hepatol. 2015;13:131-7)
Mourad FH, Hashash JG, Kariyawasam VC, Leong RW. Ulcerative Colitis and Cytomegalovirus Infection: From A to Z. J Crohns Colitis. 2020;14:1162-71.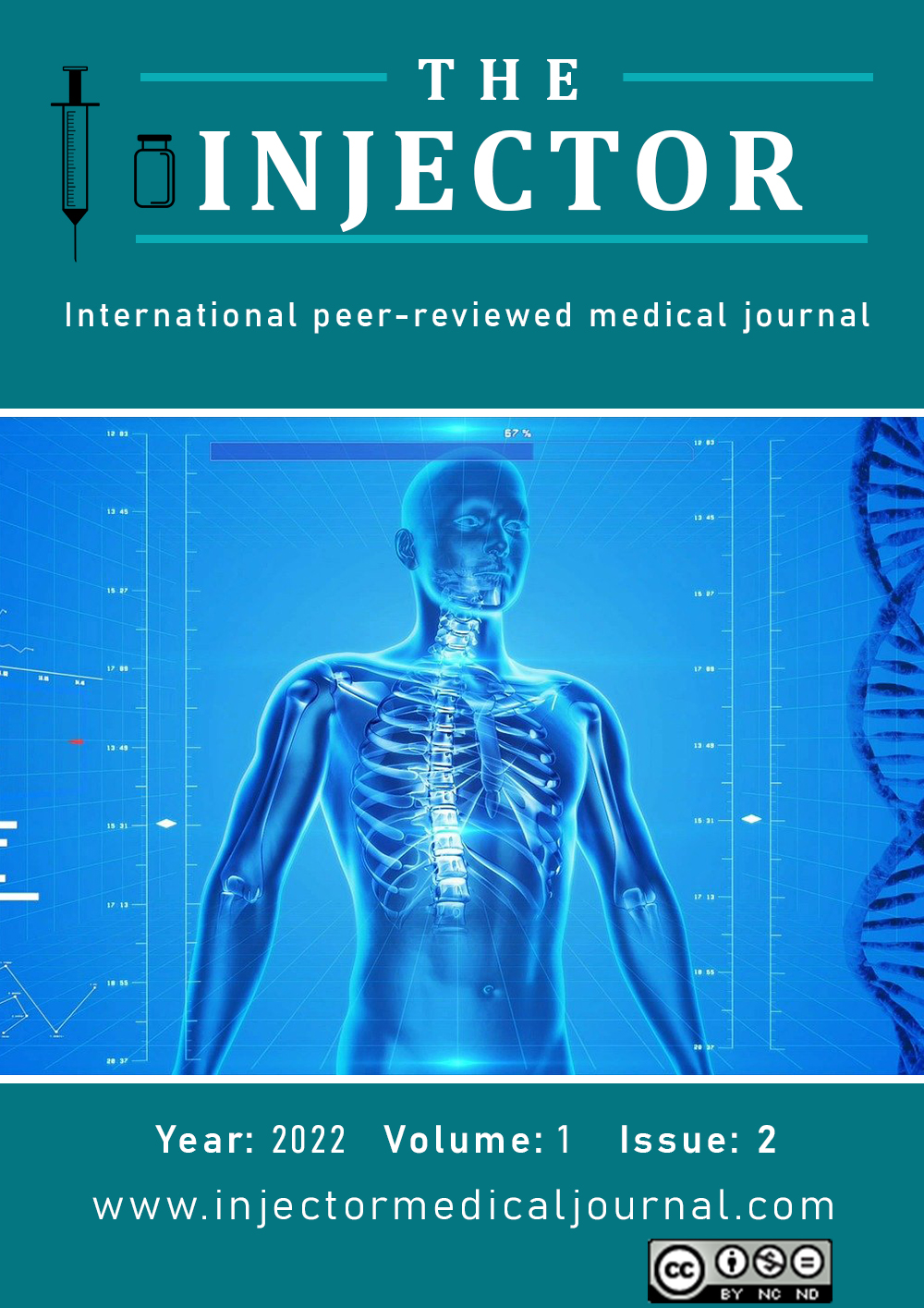 Downloads
How to Cite
Demir, A. M., Aydın, C., Hıdımoğlu, B., Dereci, S., Kanık Yüksek, S., & Karakuş, E. (2022). CMV colitis in children: Single-center experience: CMV colitis in children. The Injector, 1(2), 70–79. https://doi.org/10.5281/zenodo.7035914
License
Copyright (c) 2022 The Injector
This work is licensed under a Creative Commons Attribution-NonCommercial 4.0 International License.