Distribution and drug resistance of pathogens isolated from patients with hematological malignancies in three-year period
Pathogens in hematological malignancies
Keywords:
Antimicrobial resistance, hematological malignancy , infection
Abstract
Objective: This study aimed to retrospectively analyze the 3-year findings of bacterial and fungal pathogens isolated from infections in patients with hematological malignancies.
Methods: A retrospective analysis of 158 patients with hematological malignancies treated between January 2015 and December 2017 in Okmeydanı Training and Research Hospital, Istanbul, Turkey. A total of 3374 non-consecutive blood samples (n=1954) from 158 patients, urine samples (n=1024), wound swabs (n=94), respiratory samples (n=87),  and other samples (CSF, body fluids, etc.) (n=215) were collected.
Results: Pathogen growth was detected in 6% (203/3374) of the samples. The most frequently isolated pathogens are coagulase negative staphylococci (CNS, 20%), E. coli (19%), Klebsiella sp. (17%) and yeasts (16%), followed by Pseudomonas sp., Acinetobacter sp. and Enterococcus sp. (7%, 6% and 6%, respectively). Candida species were dominant in fungal isolates (26/32; 81.2%). The most commonly detected antibiotic resistance patterns and organisms are carbapenem-resistant Acinetobacter sp. (92%), methicillin-resistant CNS (83%), carbapenem-resistant Klebsiella sp. (65%), MRSA (57%), and vancomycin-resistant Enterococci (VRE, 42%).
Conclusion: Bloodstream infections accounted for more than half of all infection episodes. Periodic examination of the clinical and microbiological profiles of infections developing in patients with malignancy is essential for successful treatment management.
References
de Naurois J, Novitzky-Basso I, Gill MJ, Marti FM, Cullen MH, Roila F; ESMO Guidelines Working Group. Management of febrile neutropenia: ESMO Clinical Practice Guidelines. Ann Oncol. 2010;21(5):252-6.
Villafuerte-Gutierrez P, Villalon L, Losa JE, Henriquez-Camacho C. Treatment of febrile neutropenia and prophylaxis in hematologic malignancies: a critical review and update. Adv Hematol. 2014;2014:986938
Nouér SA, Nucci M, Anaissie E. Tackling antibiotic resistance in febrile neutropenia: current challenges with and recommendations for managing infections with resistant Gram-negative organisms. Expert Rev Hematol. 2015;8(5):647-58.
Aslan M, Öz Y, Akay MO, Aksit, F. Evaluation of febrile neutropenia in hematologic malignancy patients. Mediterranean Journal of Infection Microbes and Antimicrobials. 2014;3(20):1-9.
Demirkaya MH, Yeşilkaya A, Akçil-Ok M, Kurt-Azap Ö. İmmünokompromize Hastalarda Gelişen Bakteriyemilerde Etken Dağılımı ve Antibiyotik Duyarlılık Oranlarının Belirlenmesi. Klimik Dergisi 2017;30(1):32-5.
Falchi D, Bakır AC, Risteski T, Abu Tziam H, Yüksel S, Inal Azizoğlu S. Diagnostic Value of The Ischemia Modified Albumin and Pentraxin 3 In Pediatric Appendicitis: A Meta Analysis. J Clin Tri Exp Invest. 2022;1(1):1–9.
Klyuev SA, Asharur RM, Goremykin IV, Masevkin VG, Shintaev TK, Azizoğlu M. Two Types of Gastric Volvulus In Children: Case Reports And Review of The Literature. J Clin Tri Exp Invest. 2022;1(1):10–6.
Arslan S, Okur MH, Basuguy E, Aydogdu B, Zeytun H, Cal S et al. Crystallized phenol for treatment of pilonidal sinus disease in children: a comparative clinical study. Pediatr Surg Int. 2021;37(6):807-13.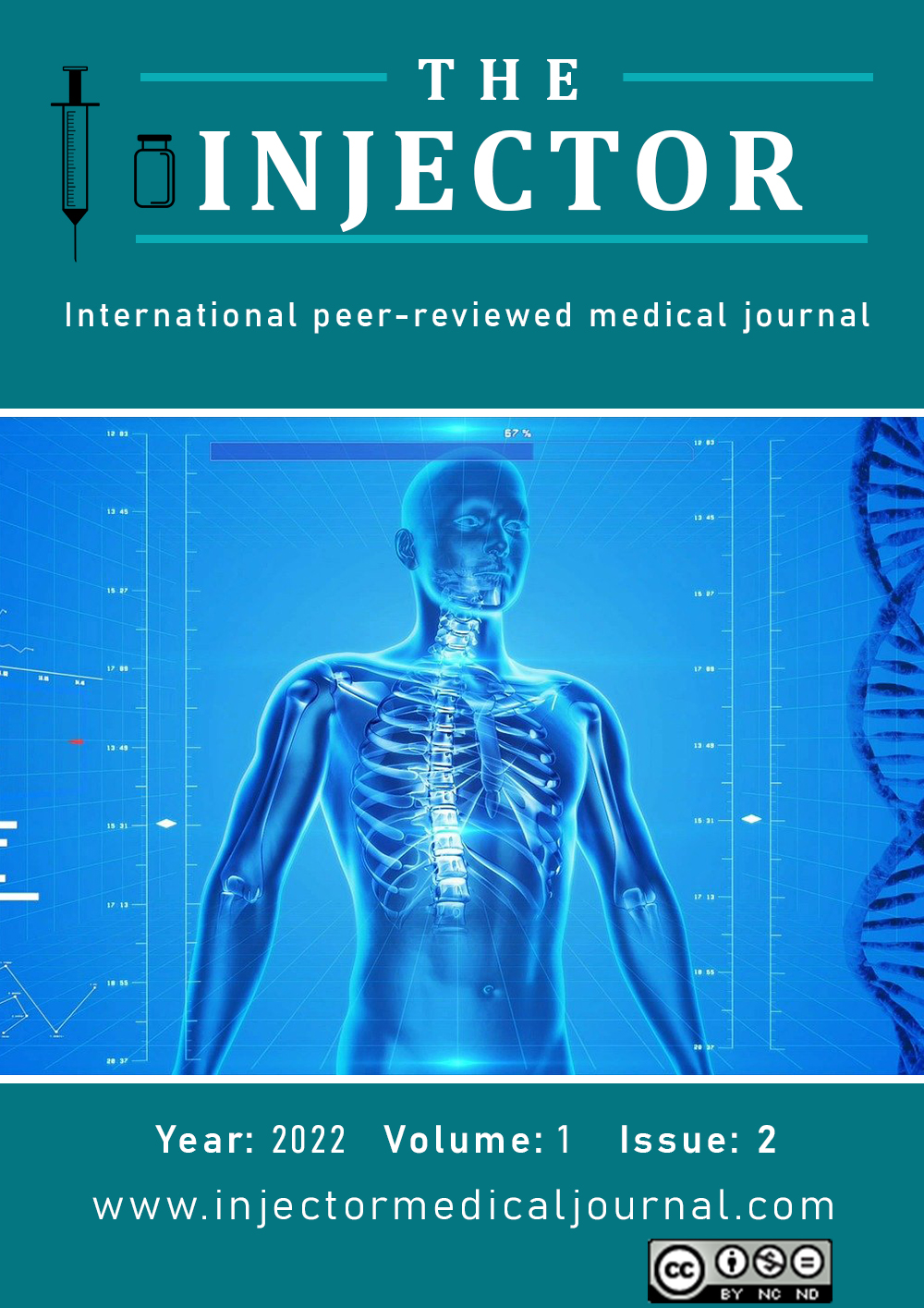 Downloads
How to Cite
Arabacı, Çiğdem, & Aksu, M. B. (2022). Distribution and drug resistance of pathogens isolated from patients with hematological malignancies in three-year period: Pathogens in hematological malignancies. The Injector, 1(2), 47–51. https://doi.org/10.5281/zenodo.7026693
License
Copyright (c) 2022 The Injector
This work is licensed under a Creative Commons Attribution-NonCommercial 4.0 International License.