Cerebral embolism after vaccination against COVID-19: a case report
COVID-19 and vaccination
Keywords:
Cerebral embolism, COVID-19, vaccination
Abstract
Coronavirus disease-2019 (COVID-19) is threatening world health back since 2019 by undergoing various mutations in the world day by day. However, various measures and treatment options are being developed against the disease. Among these, first of all, mask, distance, cleaning and immunization with vaccines come. Of course, unknown complications are beginning to emerge in newly developed vaccines, and these complications make people nervous. We wanted to share a case of cerebrovascular embolism, which we think developed secondary to BNT162b2 mRNA vaccine after routine surgery.
References
Cattaneo M, Bertinato EM, Birocchi S, Brizio C, Malavolta D, Manzoni M, et al. Pulmonary Embolism or Pulmonary Thrombosis in COVID-19? Is the Recommendation to Use High-Dose Heparin for Thromboprophylaxis Justified? Thromb Haemost. 2020;120(8):1230-32
Karabulut A, Şahin M. The effect of the COVID-19 pandemic on the increase of hyperlipidemia and metabolic syndrome in the Turkish population: a retrospective study. Journal of Health Sciences and Medicine. 2022;5(2):607-13.
Baş Y, Keser Şahin HH. SARS-CoV-2 and Protection Methods in Histology and Cytology Workflow: Traditional Review. Türkiye Klinikleri. Tıp Bilimleri Dergisi. 2021;41(3):335-45.
Schulz JB, Berlit P, Diener HC, Gerloff C, Greinacher A, Klein C, et al; German Society of Neurology SARS-CoV-2 Vaccination Study Group. COVID-19 Vaccine-Associated Cerebral Venous Thrombosis in Germany. Ann Neurol. 2021;90(4):627-39.
Wang B, Li R, Lu Z, Huang Y. Does comorbidity increase the risk of patients with COVID-19: evidence from meta-analysis. Aging (Albany NY). 2020;12(7):6049-57.
Hippisley-Cox J, Patone M, Mei XW, Saatci D, Dixon S, Khunti K, et al. Risk of thrombocytopenia and thromboembolism after covid-19 vaccination and SARS-CoV-2 positive testing: self-controlled case series study. BMJ. 2021;374:1931.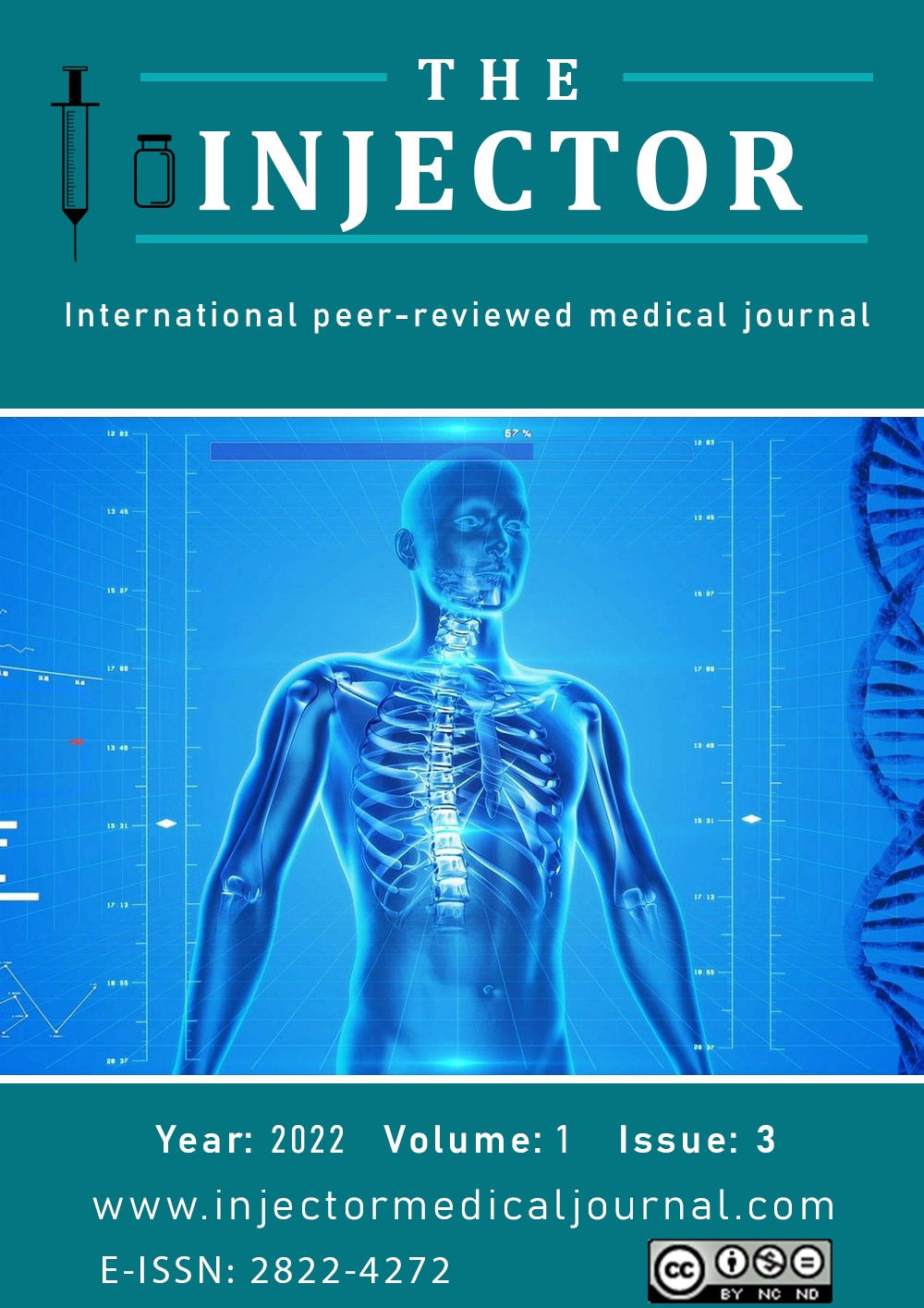 Downloads
How to Cite
Pirhan, Y., & Evirgen, S. (2022). Cerebral embolism after vaccination against COVID-19: a case report: COVID-19 and vaccination. The Injector, 1(3), 136–139. https://doi.org/10.5281/zenodo.7482285
License
Copyright (c) 2022 The Injector
This work is licensed under a Creative Commons Attribution-NonCommercial 4.0 International License.