A rare cause of ileus: Morgagni hernia defect in case of emergency
Morgagni hernia in emergency
Keywords:
Diaphragmatic hernia, morgagni, strangulation
Abstract
Morgagni Hernia is a congenital defect seen in 2% of the population and develops from agenesis of the diaphragmatic crus and costal and sternal parts. This pathology may not cause any symptoms and therefore may not be diagnosed until adulthood. In this case report, the reduction and repair of the defect with graft of a patient who was evaluated in the emergency room with ileus and developed incarceration of the omentum and colon due to Morgagni hernia is described. We aimed to point out that this rare congenital diaphragmatic hernia should be considered in the diagnosis of patients presenting to the emergency department with ileus.
References
Bragg WD, Bumpers H, Flynn W, Hsu HK, Hoover EL. Morgagni hernias: an uncommon cause of chest masses in adults. Am Fam Physician. 1996;54(6):2021-4.
Comer TP, Clagett OT. Surgical treatment of hernia of the foramen of Morgagni. J Thorac Cardiovasc Surg. 1966;52(4):461-8.
Morgagni G. The seats and causes of diseases investigated by anatomy; in five books, containing a great variety of dissections with remarks. To which are added very accurate and copious indexes of the principal things and names there in contained. Vol. 2: London, Printedfor A. Millar, and T. Cadell, his successor [etc.]; 1769.
Horton JD, Hofmann LJ, Hetz SP. Presentation and management of Morgagni hernias in adults: a review of 298 cases. Surgical endoscopy. 2008;22(6):1413-20.
Young MC, Saddoughi SA, Aho JM, Harmsen WS, Allen MS, Blackmon SH, et al. Comparison of Laparoscopic Versus Open Surgical Management of Morgagni Hernia. Ann Thorac Surg. 2019;107(1):257-61.
Al-Salem AH, Zamakhshary M, Al Mohaidly M, Al-Qahtani A, Abdulla MR, Naga MI. Congenital Morgagni's hernia: a national multicenter study. J Pediatr Surg. 2014;49(4):503-7.
Robb BW, Reed MF. Congenital diaphragmatic hernia presenting as splenic rupture in an adult. Ann Thorac Surg. 2006;81(3):e9-10.
Lee JH, Kim SW. Small bowel strangulation due to peritoneopericardial diaphragmatic hernia. J Cardiothorac Surg. 2014;9:65.
McBride R, Brown T, Dasari B, Scoffield J. Large bowel obstruction due to anterior diaphragmatic hernia (of Morgagni) on the right side. BMJ Case Rep. 2012;2012:bcr2012007447.
Schumacher L, Gilbert S. Congenital diaphragmatic hernia in the adult. Thorac Surg Clin 2009;19(4):469–72.
Lin ST, Moss DM, Henderson SO. A case of Morgagni hernia presenting as pneumonia. J Emerg Med. 1997;15(3):297-301.
Abraham V, Myla Y, Verghese S, Chandran BS. Morgagni-larrey hernia- a review of 20 cases. Indian J Surg. 2012;74(5):391-5.
Horton JD, Hofmann LJ, Hetz SP. Presentation and management of Morgagni hernias in adults: a review of 298 cases. Surg Endosc. 2008;22(6):1413-20.
Aghajanzadeh M, Khadem S, Khajeh Jahromi S, Gorabi HE, Ebrahimi H, Maafi AA. Clinical presentation and operative repair of Morgagni hernia. Interact Cardiovasc Thorac Surg. 2012;15(4):608-11.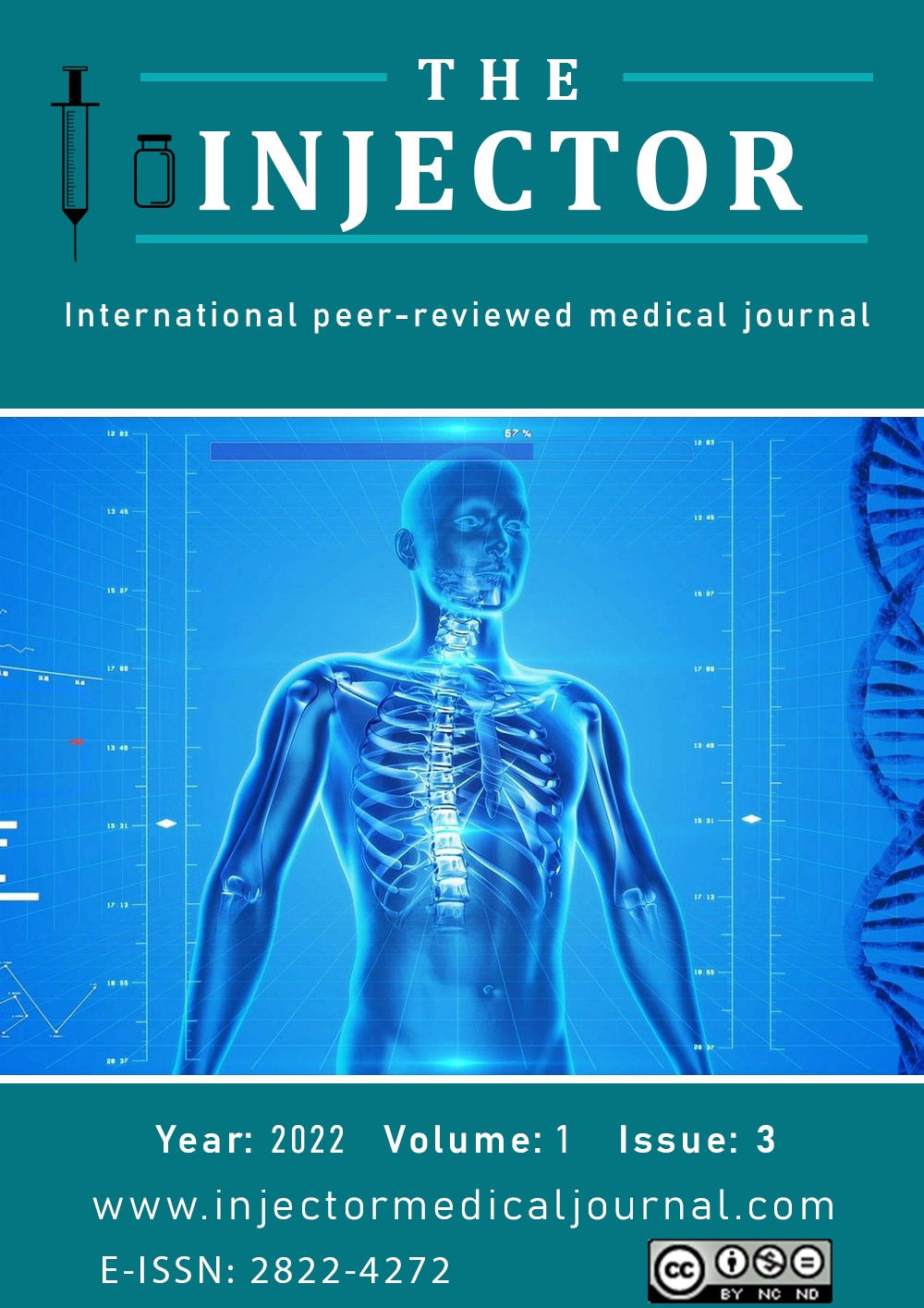 Downloads
How to Cite
Aslan, O., Sezikli, İsmail ., Uğur Çalışkan, S., & Evirgen, S. (2022). A rare cause of ileus: Morgagni hernia defect in case of emergency : Morgagni hernia in emergency. The Injector, 1(3), 140–143. https://doi.org/10.5281/zenodo.7493428
License
Copyright (c) 2022 The Injector
This work is licensed under a Creative Commons Attribution-NonCommercial 4.0 International License.