Amniotic fluid embolism: a catastrophic incident in pregnancy
Amniotic fluid embolism
Keywords:
Amniotic fluid, autopsy, embolism, histopathology, postmortem, pregnancy
Abstract
Objective: Amniotic fluid embolism (AFE) is a rare entity that occurs during pregnancy, about which there is limited information currently. This study aimed to contribute to the literature by evaluating histopathologic findings, clinical data, and autopsy findings of the cases from a postmortem point of view.
Methods: A 10-year retrospective study was designed to assess deaths during pregnancy. To address vascular structures and identify the squamous cells, immunohistochemical staining was performed on the lung specimens of individuals who underwent autopsy due to sudden death during this period and were diagnosed with amnion embolism. Demographic data and clinical findings of the cases were obtained from the institutional archive and evaluated together with autopsy and histopathologic findings.
Results: During a 10-year period, 89 pregnant women were autopsied and five were diagnosed with amniotic fluid embolism. In all cases, macroscopic examination revealed subpleural petechial hemorrhages in the lungs, and hematoxylin-eosin (HE)-stained sections of the lungs showed scales and squamous cells in pulmonary vessel lumens. Immunohistochemical staining with CD34 in vascular structures and with pankeratin (PANCK) in scales and squamous cells was detected in all cases. There was no pathology in other organs on macroscopic and microscopic examination. No drugs or toxins were detected in the blood and body fluids in the toxologic analysis. Two decedents had symptoms before labor and two decedents had symptoms during labor. One decedent had symptoms just after she gave birth vaginally. Four of them had emergency c-sections. In three cases, uterine rupture followed by hysterectomy was observed, and in two cases, the fetus also died with the mother. Three fetuses whose mothers died due to amniotic fluid embolism were rescued alive.
Conclusion: This study underlines uterine rupture and Cesarean sections as crucial risk factors for AFE, but no connection was found with older maternal age. Although AFE is such a devastating picture, there is still no agreed diagnostic definition currently. This study supports the reliability of the clinical parameters recommended in the Paris AFE framework, which was based on clinical findings. These criteria can also be used in our country in places with more limited conditions. This study emphasizes that it is critical to evaluate patients with echocardiography, which is available in many centers in Turkey, in cases of pregnancy with unstoppable vaginal bleeding that starts with hypotension and neurological findings. The postmortem data can contribute to the recognition of its unique clinical and histopathological manifestations, which can be used for maternal and infant survival.
References
Shamshirsaz AA, Clark SL. Amniotic Fluid Embolism. Obstet Gynecol Clin North Am. 2016;43:779-90.
Coggins AS, Gomez E, Sheffield JS. Pulmonary Embolism and Amniotic Fluid Embolism. Obstet Gynecol Clin North Am. 2022;49:439-60.
Kristensen K, Langdana F, Clentworth H, Hansby C, Dalley P. Amniotic fluid embolism after intrauterine fetal demise. N Z Med J. 2016;129:87-8.
Kaur K, Bhardwaj M, Kumar P, Singhal S, Singh T, Hooda S. Amniotic fluid embolism. J Anesthesiol Clin Pharmacol. 2016;32:153-9.
Tsunemi T, Hidekazu OI, Sado T, Naruse K, Noguchi T, Kobayashi H. An overview of amniotic fluid embolism: Past, present and future directions. Open Womens Health J. 2012;6:24–9.
Knight M, Tuffnell D, Brocklehurst P, Spark P, Kurinczuk JJ. UK Obstetric Surveillance System. Incidence and risk factors for amniotic-fluid embolism. Obstet Gynecol. 2010;115:910-7.
Tamura N, Kimura S, Farhana M, Uchida T, Suzuki K, Sugihara K, et al. C1 esterase inhibitor activity in amniotic fluid embolism. Crit Care Med. 2014;42:1392-6.
Sultan P, Seligman K, Carvalho B. Amniotic fluid embolism: update and review. Curr Opin Anesthesiol. 2016;29:288-96.
Barakat M, Alamami A, Ait Hssain A. Recurrent Cardiac Arrests Due to Amniotic Fluid Embolism. Cureus. 2022;14:22475.
Cavoretto PI, Rovere-Querini P, Candiani M. Toward Risk Assessment for Amniotic Fluid Embolisms. JAMA Netw Open. 2022;5:2242850.
Kamata M, Maruyama T, Nishiguchi T, Iwasaki S. Sudden onset of syncope and disseminated intravascular coagulation at 14 weeks of pregnancy: a case report. BMC Pregnancy Childbirth. 2020;20:406.
Mazza GR, Youssefzadeh AC, Klar M, Kunze M, Matsuzaki S, Mandelbaum RS, et al. Association of Pregnancy Characteristics and Maternal Mortality With Amniotic Fluid Embolism. JAMA Netw Open. 2022;5:2242842.
Cahan T, De Castro H, Kalter A, Simchen MJ. Amniotic fluid embolism - implementation of international diagnosis criteria and subsequent pregnancy recurrence risk. J Perinat Med. 2021;49:546-52.
Kanayama N, Tamura N. Amniotic fluid embolism: pathophysiology and new strategies for management. J Obstet Gynecol Res. 2014;40:1507-17.
Pacheco LD, Clark SL, Klassen M, Hankins GDV. Amniotic fluid embolism: principles of early clinical management. Am J Obstet Gynecol. 2020;222:48-52.
Buechel J, Monod C, Alba Alejandre I, Ninke T, Hoesli I, Starrach T, et al. Amniotic fluid embolism: A comparison of two classification systems in a retrospective 8-year analysis from two tertiary hospitals. J Gynecol Obstet Hum Reprod. 2023;52:102597.
Bonnet MP, Zlotnik D, Saucedo M, Chassard D, Bouvier-Colle MH, Deneux-Tharaux C. French National Experts Committee on Maternal Mortality. Maternal Death Due to Amniotic Fluid Embolism: A National Study in France. Anesth Analg. 2018;126:175-82.
Zhu C, Xu D, Luo Q. Fatal amniotic fluid embolism: incidence, risk factors and influence on perinatal outcome. Arch Gynecol Obstet. 2023;307:1187-94.
Wiseman D, Simard C, Yang SS, Koolian M, Abenhaim HA, Lipes J. Echocardiography findings in amniotic fluid embolism: a systematic review of the literature. Can J Anaesth. 2023;70:151-60.
McDonnell N, Knight M, Peek MJ, Ellwood D, Homer CS, McLintock C, et al. The Australasian Maternity Outcomes Surveillance System (AMOSS). Amniotic fluid embolism: an Australian-New Zealand population-based study. BMC Pregnancy Childbirth. 2015;15:352.
Benson MD. Current concepts of immunology and diagnosis in amniotic fluid embolism. Clin Dev Immunol. 2012;2012:946576.
Oliver C, Freyer J, Murdoch M, De Lloyd L, Jenkins PV, Collis R, et al. A description of the coagulopathy characteristics in amniotic fluid embolism: a case report. Int J Obstet Anesth. 2022;51:103573.
Tombolini A, Broglia I, Ferrara G. Technical note: double immunohistochemical stain (anti-CD31 and anti-cytokeratins) as a tool for a confident forensic postmortem diagnosis of amniotic fluid embolism. Int J Legal Med. 2021;135:355-7.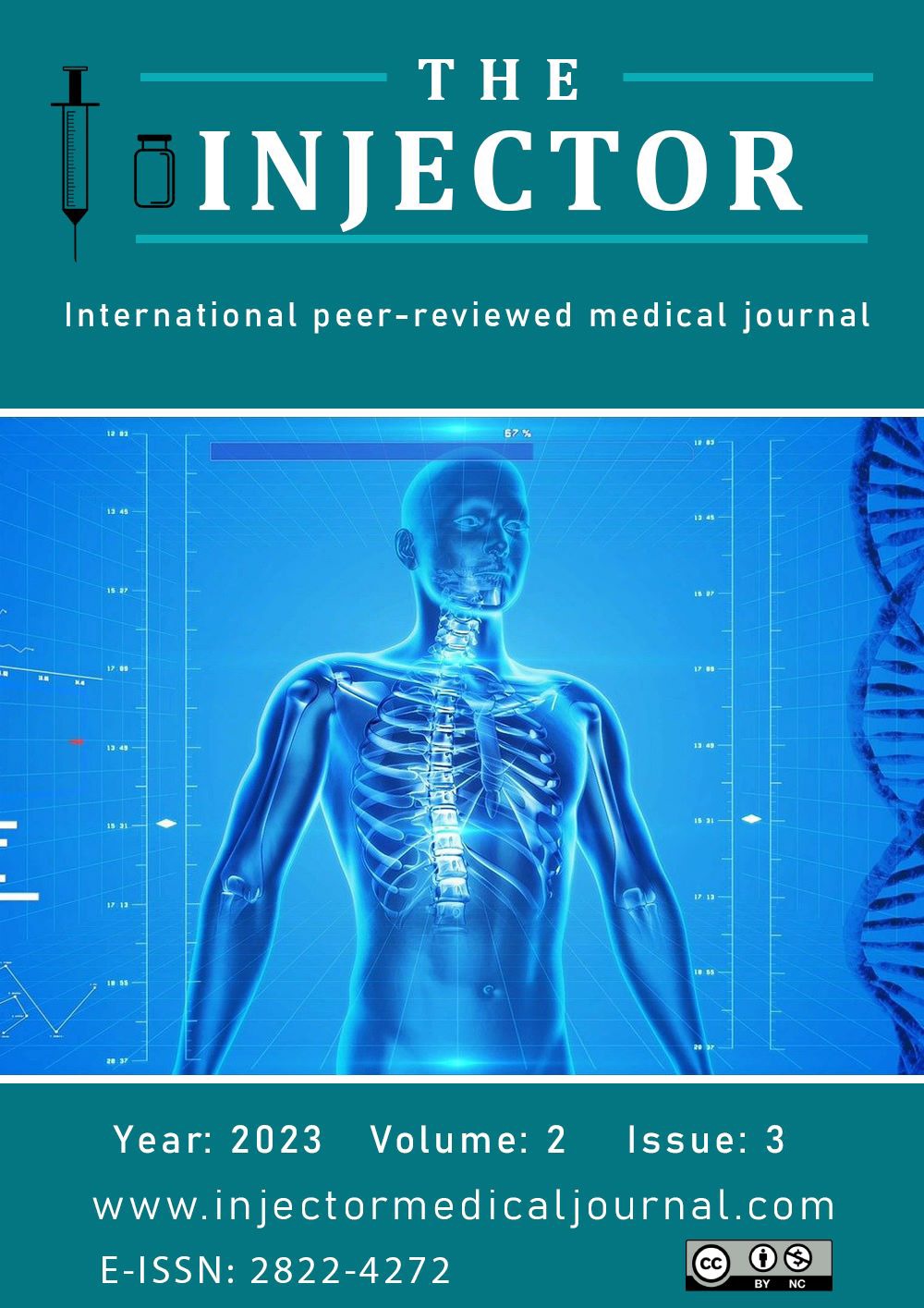 Downloads
How to Cite
Özdemir Kara, D. (2023). Amniotic fluid embolism: a catastrophic incident in pregnancy: Amniotic fluid embolism. The Injector, 2(3), 222–228. https://doi.org/10.5281/zenodo.10023367
License
Copyright (c) 2023 The Injector
This work is licensed under a Creative Commons Attribution-NonCommercial 4.0 International License.