The effect of the COVID 19 pandemic on the quality of sexual life in cases with high-risk HPV
HPV, sexual life quality and COVID 19
Keywords:
Anxiety, COVID 19, depression, human papillomavirus, sexual behavior
Abstract
Objective Although there are studies investigating the impact of high-risk human papillomavirus (HPV) on sexual life, studies on HPV, hospital anxiety scale (HAS) and quality of sexual life associated with the COVID 19 pandemic are limited. The aim of this study was to investigate the impact of the COVID 19 pandemic on quality of sexual life in women with high-risk cervical HPV.
Methods: Of the 136 patients included in this study, 68 had high-risk cervical HPV and were included in group 1 and 68 did not have HPV and were included in group 2. Sociodemographic data of the groups were recorded. The sexual quality of life scale (SQOL), COVID 19 fear scale and HAS scores were administered face-to-face to each patient in both groups.
Results: The median ages of group 1 and group 2 were 38 (25-45) and 37 (24-45) years, respectively (p=0.053). Although demographic data were similar, the number of sexual partners and smoking habits were significantly different between the groups (respectively, p=0.001, and p=0.002). Mean scores for the COVID 19 fear, SQOL, high anxiety and high depression scales were similar between groups (p>0.05). Correlation analysis of SQOL, HAS scale scores and the COVID 19 fear scale were similar (p>0.05).
Conclusion: No negative consequences of the COVID 19 pandemic were detected for the quality of sexual life of patients with high-risk HPV. It would be beneficial to provide psychological support for high levels of anxiety and depression during the COVID 19 pandemic.
References
Dhama K, Sharun K, Tiwari R, Dadar M, Malik YS, Singh KP, et al. COVID 19, an emerging coronavirus infection: advances and prospects in designing and developing vaccines, immunotherapeutics, and therapeutics. Hum Vaccin Immunother. 2020;2:16:1232-38.
Chaibakhsh S, Pourhoseingholi A, Vahedi M. Global Incidence and Mortality Rate of COVID 19; Special Focus on Iran, Italy and China. Arch Iran Med. 2020;23:455-61.
Karsiyakali N, Sahin Y, Ates HA, Okucu E, Karabay E. Evaluation of the Sexual Functioning of Individuals Living in Turkey During the COVID 19 Pandemic: An Internet-Based Nationwide Survey Study. Sex Med. 2021;9:100279.
Cabello F, Sánchez F, Farré JM, Montejo AL. Consensus on Recommendations for Safe Sexual Activity during the COVID 19 Coronavirus Pandemic. J Clin Med. 2020;20:9:2297.
Brooks SK, Webster RK, Smith LE, Woodland L, Wessely S, Greenberg N, et al. The psychological impact of quarantine and how to reduce it: rapid review of the evidence. Lancet. 2020;14:395:912-20.
Sayers J. The world health report 2001 - Mental health: new understanding, new hope. Bull World Health Organ. 2001;79:1085.
Carpenter KM, Andersen BL, Fowler JM, Maxwell GL. Sexual self schema as a moderator of sexual and psychological outcomes for gynecologic cancer survivors. Arch Sex Behav. 2009;38:828-41.
World Health Organisation. Sexual and reproductive health and research (SRH).https://www.who.int/teams/sexual-and-reproductive-health-and-research/key-areas-of-work/sexual-health/defining-sexual-health (Accessed September 2023).
Brianti P, De Flammineis E, Mercuri SR. Review of HPV-related diseases and cancers. New Microbiol. 2017;40:80-5.
Kocjan BJ, Bzhalava D, Forslund O, Dillner J, Poljak M. Molecular methods for identification and characterization of novel papillomaviruses. Clin Microbiol Infect. 2015;21:808-16.
Nagele E, Reich O, Greimel E, Dorfer M, Haas J, Trutnovsky G. Sexual Activity, Psychosexual Distress, and Fear of Progression in Women With Human Papillomavirus-Related Premalignant Genital Lesions. J Sex Med. 2016;13:253-9.
Li G, Tang D, Song B, Wang C, Qunshan S, Xu C, et al. Impact of the COVID 19 Pandemic on Partner Relationships and Sexual and Reproductive Health: Cross-Sectional, Online Survey Study. J Med Internet Res. 2020;6:22:e20961.
Gökbulut N, Bal Z, Uçar T. The Effect of the COVID 19 Epidemic on Spousal Adjustment and Sexual Life Quality in Women. Ankara Training and Research Hospital Medical Journal. 2022; 54: 447-54.
Karakas LA, Azemi A, Simsek SY, Akilli H, Esin S. Risk factors for sexual dysfunction in pregnant women during the COVID 19 pandemic. Int J Gynaecol Obstet. 2021;152:226-30.
Qaderi K, Yazdkhasti M, Zangeneh S, Behbahani BM, Kalhor M, Shamsabadi, A et al. Changes in sexual activities, function, and satisfaction during the COVID 19 pandemic era: a systematic review and meta-analysis. Sex Med. 2023;24;11:qfad005.
Yuksel B, Ozgor F. Effect of the COVID 19 pandemic on female sexual behavior. Int J Gynaecol Obstet. 2020;150:98-102.
Muñoz N, Bosch FX, de Sanjosé S, Herrero R, Castellsagué X, Shah KV, et al. International Agency for Research on Cancer Multicenter Cervical Cancer Study Group. Epidemiologic classification of human papillomavirus types associated with cervical cancer. N Engl J Med. 2003;6:348:518-27.
Ahorsu DK, Lin CY, Imani V, Saffari M, Griffiths MD, Pakpour AH. The Fear of COVID 19 Scale: Development and Initial Validation. Int J Ment Health Addict. 2022;20:1537-45.
Satici B, Gocet-Tekin E, Deniz ME, Satici SA. Adaptation of the Fear of COVID 19 Scale: Its Association with Psychological Distress and Life Satisfaction in Turkey. Int J Ment Health Addict. 2021;19:1980-88.
Symonds T, Boolell M, Quirk F. Development of a questionnaire on sexual quality of life in women. J Sex Marital Ther. 2005;31:385-97.
Tuğut N, Gölbaşı Z. The validity and reliability study of the Sexual Life Quality Scale - Female Turkish Version. Cumhuriyet Medical Journal. 2010;32:172-80.
Zigmond AS, Snaith RP. The hospital anxiety and depression scale. Acta Psychiatr Scand. 1983;67:361-70.
Voutskidou A, Kirkou G, Dagla M, Orovou E, Sarella A, Palaska E, et al. COVID 19 Pandemic and Its Impact on the Quality of Women's Sexual Life: A Systematic Review. Healthcare (Basel). 2023;7;11:185.
American College of Obstetricians and Gynecologists' Committee on Practice Bulletins—Gynecology. Female Sexual Dysfunction: ACOG Practice Bulletin Clinical Management Guidelines for Obstetrician-Gynecologists, Number 213. Obstet Gynecol. 2019;134:1:e1-e18.
Küçükyıldız, İ. Sexual dysfunction in women during COVID 19 pandemic: A hospital-based, prospective, cross-sectional comparative study . Cumhuriyet Medical Journal.2021;43:241-48.
Turliuc MN, Candel OS. Not All in the Same Boat. Socioeconomic Differences in Marital Stress and Satisfaction During the COVID 19 Pandemic. Front Psychol. 2021;31:12:635148.
Sikorska M, Pawlowska A, Antosik-Wójcińska A, Zyguła A, Suchońska B, Dominiak M. The Impact of HPV Diagnosis and the Electrosurgical Excision Procedure (LEEP) on Mental Health and Sexual Functioning: A Systematic Review. Cancers (Basel). 2023;10:15:2226.
Heinonen A, Tapper AM, Leminen A, Sintonen H, Roine RP. Health-related quality of life and perception of anxiety in women with abnormal cervical cytology referred for colposcopy: an observational study. Eur J Obstet Gynecol Reprod Biol. 2013;169:387-91.
Moura ERF, Veras SS, Dias AA, Nogueira L, Aguiar R, Nogueira PSF, et al. Panorama clínico, terapêutico e sexual de mulheres portadoras de Papiloma Vírus Humano e/ou Neoplasia Intraepitelial Cervical. Rev Enf Ref. 2014;4:113–20.
Mercan R, Mercan S, Durmaz B, Sur H, Kilciksiz CM, Kacar AS, et al. Sexual dysfunction in women with human papilloma virus infection in the Turkish population. J Obstet Gynaecol. 2019;39:659-63.
Stanley M. Immunobiology of HPV and HPV vaccines. Gynecol Oncol. 2008;109:15-21.
Mzarico E, Gómez-Roig MD, Guirado L, Lorente N, Gonzalez-Bosquet E. Relationship between smoking, HPV infection, and risk of Cervical cancer. Eur J Gynaecol Oncol. 2015;36:677-80.
Catarino R, Vassilakos P, Tebeu PM, Schäfer S, Bongoe A, Petignat P. Risk factors associated with human papillomavirus prevalence and cervical neoplasia among Cameroonian women. Cancer Epidemiol. 2016;40:60-6.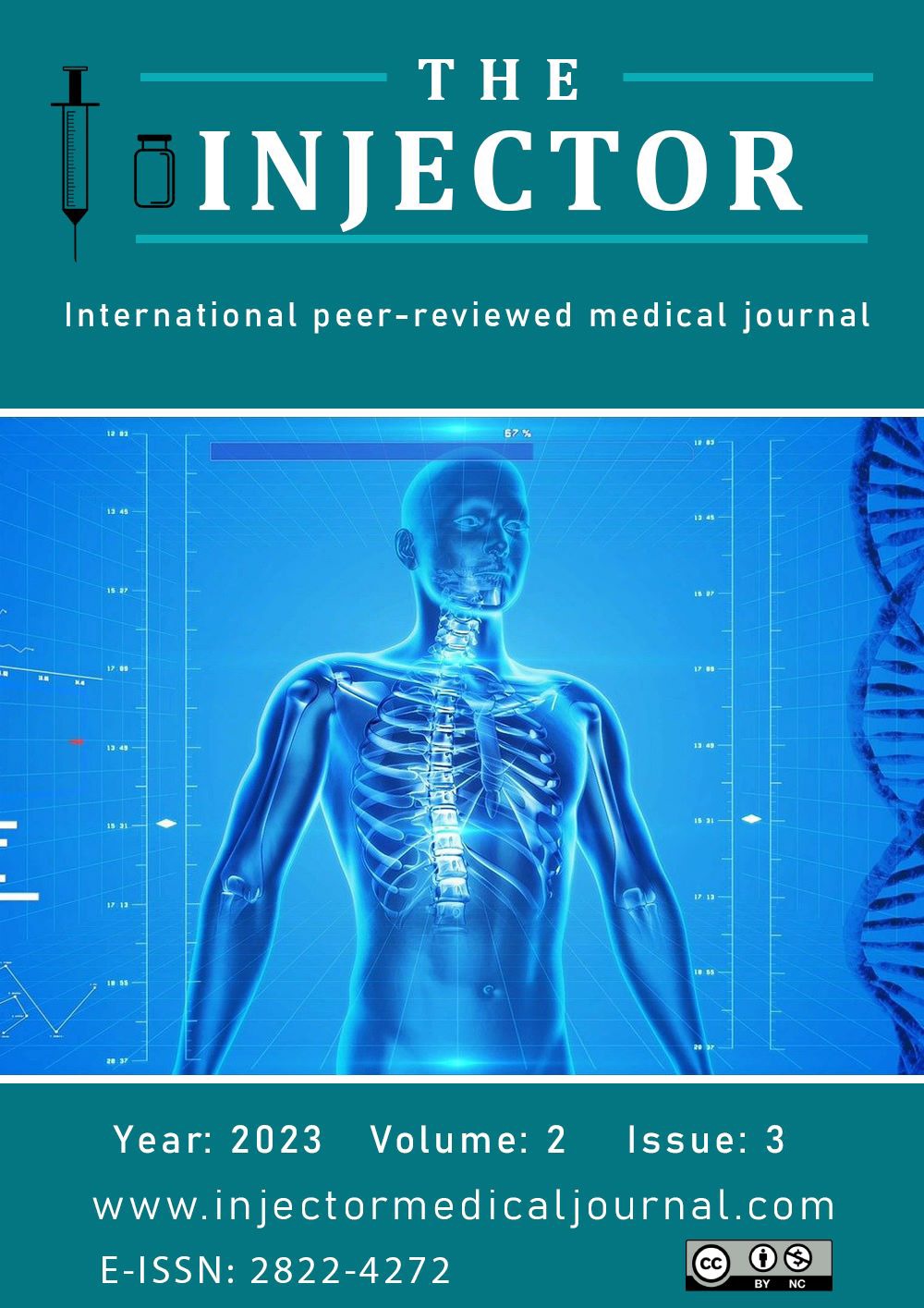 Downloads
How to Cite
Avcı, F., Kulhan, M., Aydın, M., Guler, A. H., Ateş, M. C., Bilgi, A., Duymuş, A. C., & Çelik, Çetin. (2023). The effect of the COVID 19 pandemic on the quality of sexual life in cases with high-risk HPV: HPV, sexual life quality and COVID 19. The Injector, 2(3), 170–177. https://doi.org/10.5281/zenodo.8393815
License
Copyright (c) 2023 The Injector
This work is licensed under a Creative Commons Attribution-NonCommercial 4.0 International License.