Evaluation of the satisfaction levels of medical students with anatomy education in the COVID-19 pandemic process
Anatomy education in the COVID-19 pandemic
Keywords:
Anatomy education, COVID-19, online education, students' opinions, survey
Abstract
Objective: During the COVID-19 pandemic, online education was started in order to continue education in the medical faculty. The aim of our study is to evaluate the satisfaction degree with the Anatomy education of the students of the medical faculty of Hitit University during the COVID-19 pandemic.
Methods: 2nd and 3rd-grade medical faculty students of Hitit University were included in our study. A total of 146 students participated, 56 (38.4%) males and 90 (61.6%) females. The survey questions were prepared in Google forms and sent to the students online. The answers given to the survey were analyzed statistically according to grades.
Results: Among the disadvantages of taking anatomy lessons remotely, keeping away from the classroom environment was the most marked. Most of the students wanted post-pandemic education to continue with online education supported by face-to-face education (62; 42%). No statistically significant difference was found between the grades in the answers given to the questionnaire (p>0.05). The fact that there was no difference between the grades was an indication that they received anatomy education in line with the same quality and facilities in both grades.
Conclusion: The feedbacks of the medical faculty students will contribute to the efficiency of anatomy education and to increase the efficiency and quality of anatomy education.
References
Henwood AF. Coronavirus disinfection in histopathology. J Histotechnol. 2020;43:102-4.
Manderson L, Levine S. COVID-19, Risk, Fear, and Fall-out. Med Anthropol. 2020;39:367-70.
Seah I, Agrawal R. Can the Coronavirus Disease 2019 (COVID-19) Affect the Eyes? A Review of Coronaviruses and Ocular Implications in Humans and Animals. Ocul Immunol Inflamm. 2020;28:391-5.
Ahmad T, Hui J. One Health approach and Coronavirus Disease 2019. Hum Vaccin Immunother. 2020;16:931-2.
Paules CI, Marston HD, Fauci AS. Coronavirus Infections-More Than Just the Common Cold. Jama. 2020;323:707-8.
Sadeesh T, Prabavathy G, Ganapathy A. Evaluation of undergraduate medical students' preference to human anatomy practical assessment methodology: a comparison between online and traditional methods. Surg Radiol Anat. 2021;43:531-5.
Karadağ E, Yucel C. Yeni tip Koronavirüs pandemisi döneminde üniversitelerde uzaktan eğitim: Lisans öğrencileri kapsamında bir değerlendirme çalışması. Yükseköğretim Dergisi. 2020;10:181-92.
Acuner AM, Yalcın M, Ersoy M, Tekdemir I, Ersoy F. Ankara Üniversi Tıp Fakültesi Anatomi Dersine İlişkin Öğretme-Öğrenme Sürecinin Değerlendirilmesi. Ankara Üniversitesi Tıp Fakültesi Mecmuası. 1999;52.
Iwanaga J, Loukas M, Dumont AS, Tubbs RS. A review of anatomy education during and after the COVID-19 pandemic: Revisiting traditional and modern methods to achieve future innovation. Clin Anat. 2021;34:108-14.
Keskin M, Derya Ö. COVID-19 sürecinde öğrencilerin web tabanlı uzaktan eğitime yönelik geri bildirimlerinin değerlendirilmesi. İzmir Katip Çelebi Üniversitesi Sağlık Bilimleri Fakültesi Dergisi. 2020;5:59-67.
Dinsmore CE, Daugherty S, Zeitz HJ. Teaching and learning gross anatomy: dissection, prosection, or "both of the above?". Clin Anat. 1999;12:110-4.
Masters K. Edgar Dale's Pyramid of Learning in medical education: A literature review. Medical teacher. 2013;35:e1584-e1593.
Yildirim K. İstisnai bir uzaktan eğitim-öğretim deneyiminin öğrettikleri. Alanyazın. 2020;1:7-16.
Babacan S, Dogru Yuvarlakbas S. Digitalization in education during the COVID-19 pandemic: emergency distance anatomy education. Surg Radiol Anat. 2022;44:55-60.
Turhan B, Yakut Y. The opinions of physiotherapy students on online anatomy education during Covid-19 pandemic. Anatomy. 2020;14:134-8.
Senol D, Toy S, Canbolat M, Pektas M. Evaluation of online anatomy education given in medicine and dentistry faculties of universities during COVID-19 pandemic with student feedback. Konuralp Medical Journal. 2021;13:30-5.
Cuschieri S, Calleja Agius J. Spotlight on the shift to remote anatomical teaching during Covid‐19 pandemic: Perspectives and experiences from the University of Malta. Anatomical sciences education. 2020;13:671-9.
Singal A, Bansal A, Chaudhary P, Singh H, Patra A. Anatomy education of medical and dental students during COVID-19 pandemic: a reality check. Surgical and Radiologic Anatomy. 2021;43:515-21.
Ortadeveci A, Ermez MN, Oz S, Ozden H. A survey study on distance anatomy education: challenges unique to anatomy. Surgical and Radiologic Anatomy. 2022;44:41-7.
Shahrvini B, Baxter SL, Coffey CS, MacDonald BV, Lander L. Pre-clinical remote undergraduate medical education during the COVID-19 pandemic: a survey study. BMC Medical education. 2021;21:1-13.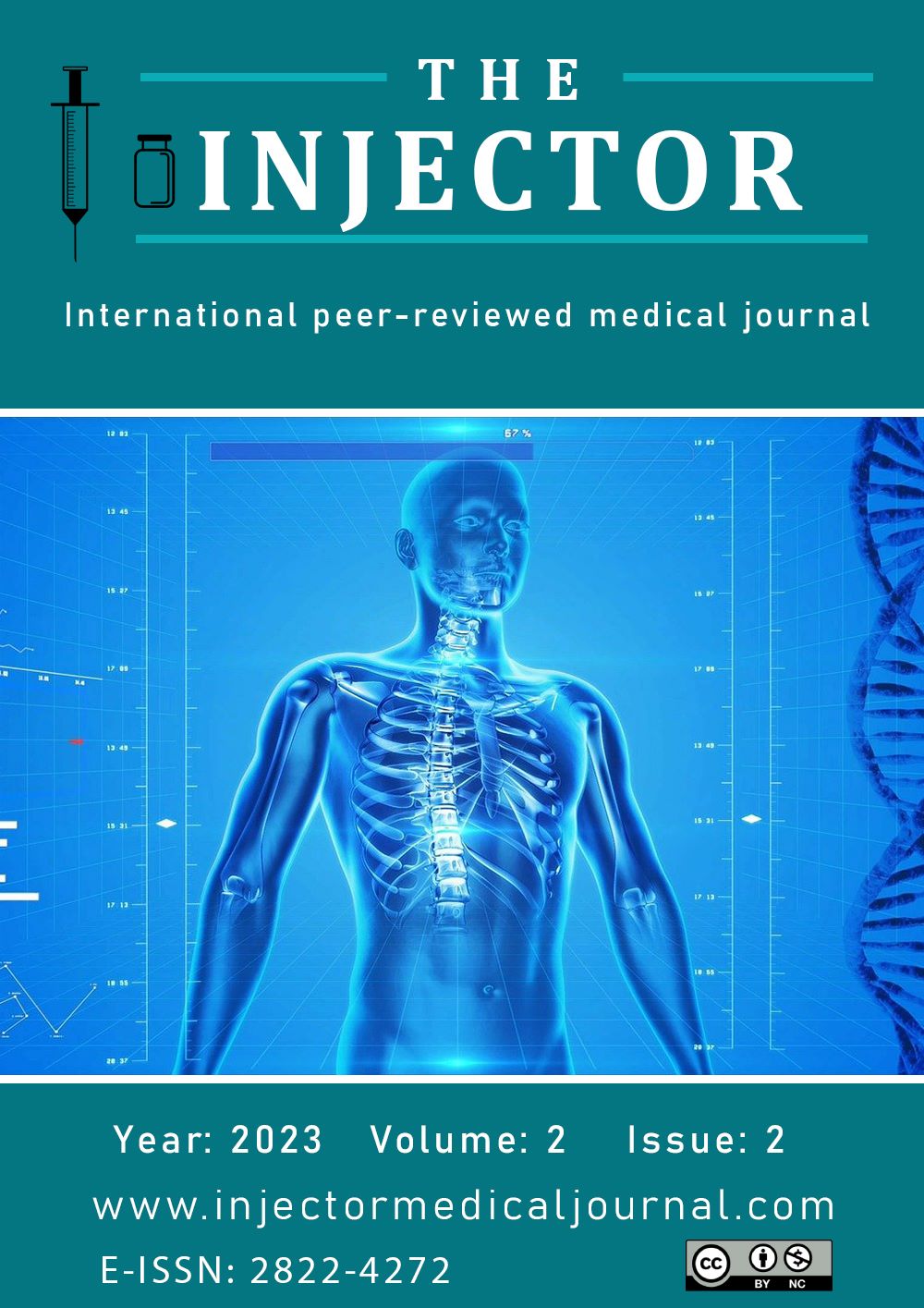 Downloads
How to Cite
Özdemir, F., Gölpinar, M., & Salim, H. (2023). Evaluation of the satisfaction levels of medical students with anatomy education in the COVID-19 pandemic process: Anatomy education in the COVID-19 pandemic. The Injector, 2(2), 61–67. https://doi.org/10.5281/zenodo.7953600
License
Copyright (c) 2023 The Injector
This work is licensed under a Creative Commons Attribution-NonCommercial 4.0 International License.