Colorectal cancer awareness among healthcare workers: implications for early detection
Colorectal cancer awareness among healthcare workers
Keywords:
Colorectal cancer, colorectal cancer awareness, healthcare workers, screening methods
Abstract
Objective: Colorectal cancer (CRC) is a significant global health concern, and its early detection through regular screening plays a pivotal role in reducing its burden. However, awareness levels among healthcare workers regarding CRC and its screening methods remain underexplored. This study aimed to assess CRC awareness among healthcare workers, to analyze their demographic characteristics, understanding of CRC, and screening preferences, and to highlight the potential for tailored educational interventions.
Methods: The study employed a quantitative approach to analyze CRC awareness data. It included 108 participants who were randomly selected from hospital staff. The participants' demographic information, CRC understanding, and screening preferences were collected and analyzed. Data integrity checks were conducted, descriptive statistics were calculated, and relationships between categorical variables were examined using chi-square and parametric tests.
Results: The study included 108 participants, with an average age of 54.8±12.1 years. The sex distribution was 56 males (51.9%) and 52 females (48.1%). The participants' demographic characteristics, including age ranges, marital status, education level, occupation, and health-related factors, were documented. The participant responses revealed varying levels of CRC awareness, symptom recognition, and screening method preferences. Significant disparities in awareness were observed based on sex, occupation, and age group. Physicians exhibited the highest levels of awareness, while drivers exhibited the lowest (p<0.05).
Conclusion: This study underscores the importance of healthcare workers as key agents in enhancing CRC awareness. While healthcare workers generally exhibit higher awareness levels than the general population, disparities remain based on demographic factors. The findings emphasize the need for targeted educational interventions to address these disparities and ensure comprehensive CRC knowledge dissemination among different occupational categories, sexes, and age groups. Ultimately, empowering healthcare workers as advocates and educators can contribute significantly to reducing the burden of CRC through early detection and effective prevention strategies.
References
Sung H, Ferlay J, Siegel RL, Laversanne M, Soerjomataram I, Jemal A, et al. Global Cancer Statistics 2020: GLOBOCAN Estimates of Incidence and Mortality Worldwide for 36 Cancers in 185 Countries. CA Cancer J Clin. 2021;71:209-49.
Bretthauer M, Løberg M, Wieszczy P, Kalager M, Emilsson L, Garborg K, et al. Effect of Colonoscopy Screening on Risks of Colorectal Cancer and Related Death. N Engl J Med. 2022;387:1547-56.
Gupta S. Screening for Colorectal Cancer. Hematol Oncol Clin North Am. 2022;36:393-414.
Bresalier RS. Colorectal Cancer Screening in a Changing World. Gastroenterol Clin North Am. 2022;51:577-91.
Shaukat A, Levin TR. Current and future colorectal cancer screening strategies. Nat Rev Gastroenterol Hepatol. 2022;19:521-31.
Wu Z, Li Y, Zhang Y, Hu H, Wu T, Liu S, et al. Colorectal Cancer Screening Methods and Molecular Markers for Early Detection. Technol Cancer Res Treat. 2020;19:1533033820980426.
Jain S, Maque J, Galoosian A, Osuna-Garcia A, May FP. Optimal Strategies for Colorectal Cancer Screening. Curr Treat Options Oncol. 2022;23:474-93.
Chan SCH, Liang JQ. Advances in tests for colorectal cancer screening and diagnosis. Expert Rev Mol Diagn. 2022;22:449-60.
Miller-Wilson LA, Limburg P, Helmueller L, João Janeiro M, Hartlaub P. The impact of multi-target stool DNA testing in clinical practice in the United States: A real-world evidence retrospective study. Prev Med Rep. 2022;30:102045.
Ebner DW, Eckmann JD, Burger KN, Mahoney DW, Bering J, Kahn A, et al. Detection of Postcolonoscopy Colorectal Neoplasia by Multitarget Stool DNA. Clin Transl Gastroenterol. 2021;12:e00375.
Pantel HJ, Kleiman DA, Kuhnen AH, Marcello PW, Stafford C, Ricciardi R. Has National Colorectal Cancer Awareness Month increased endoscopy screening rates and public interest in colorectal cancer? Surg Endosc. 2021;35:398-405.
Lee TG, Song GH, Ahn HM, Oh HK, Byun M, Han EC, et al. Public effect of the 2022 Colorectal Cancer Awareness Campaign delivered through a metaverse platform. Ann Coloproctol. 2023.
Lin JS, Perdue LA, Henrikson NB, Bean SI, Blasi PR. Screening for Colorectal Cancer: Updated Evidence Report and Systematic Review for the US Preventive Services Task Force. Jama. 2021;325:1978-98.
The Lancet Oncology. Building a more resilient cancer healthcare system. Lancet Oncol. 2020;21:999.
Yadav K, Babu R, Hariprasad R, Gupta R, Kumari M, Mehrotra R, et al. Perspectives of Healthcare Providers and the General Population on a Cancer Awareness Portal: a Qualitative Study. J Cancer Educ. 2022;37:561-7.
Alsaigh S, Almuhaimeed FA, Alsaqabi NA, Alwehaibi AM, Al-Mutairi HS. Awareness of the Adult Population Toward Colorectal Cancer in Qassim Region, Saudi Arabia. Cureus. 2023;15:e33477.
Saeed RS, Bakir YY, Alkhalifah KH, Ali LM. Knowledge and Awareness of Colorectal Cancer among General Public of Kuwait. Asian Pac J Cancer Prev. 2018;19:2455-60.
Alaqel MA, Alshammari SA, Alahmari SM, Alkhayal NK, Bin Traiki TA, Alhassan NS, et al. Community knowledge and awareness of colorectal cancer and screening tools: Community-based survey of 1,912 residents of Riyadh. Ann Med Surg (Lond). 2021;72:103046.
Babaoğlu A, Büyüközmen E, Can F. İzmir'de toplumda kanser tarama testleri farkındalığı ve bireylerin kanser tarama testlerine katılımını etkileyen faktörler. Batı Karadeniz Tıp Dergisi. 2021;5:173-81.
Pancar N, Mercan Y. Association between health literacy and colorectal cancer screening behaviors in adults in Northwestern Turkey. European Journal of Public Health. 2021;31:361-6.
Kahraman H, Kurşun Ş. Health Belief Levels of Adult Individuals on Prevention of Colorectal Cancer and Their Status of Participating in Screening Program. İzmir Katip Çelebi Üniversitesi Sağlık Bilimleri Fakültesi Dergisi. 2023;8:37-44.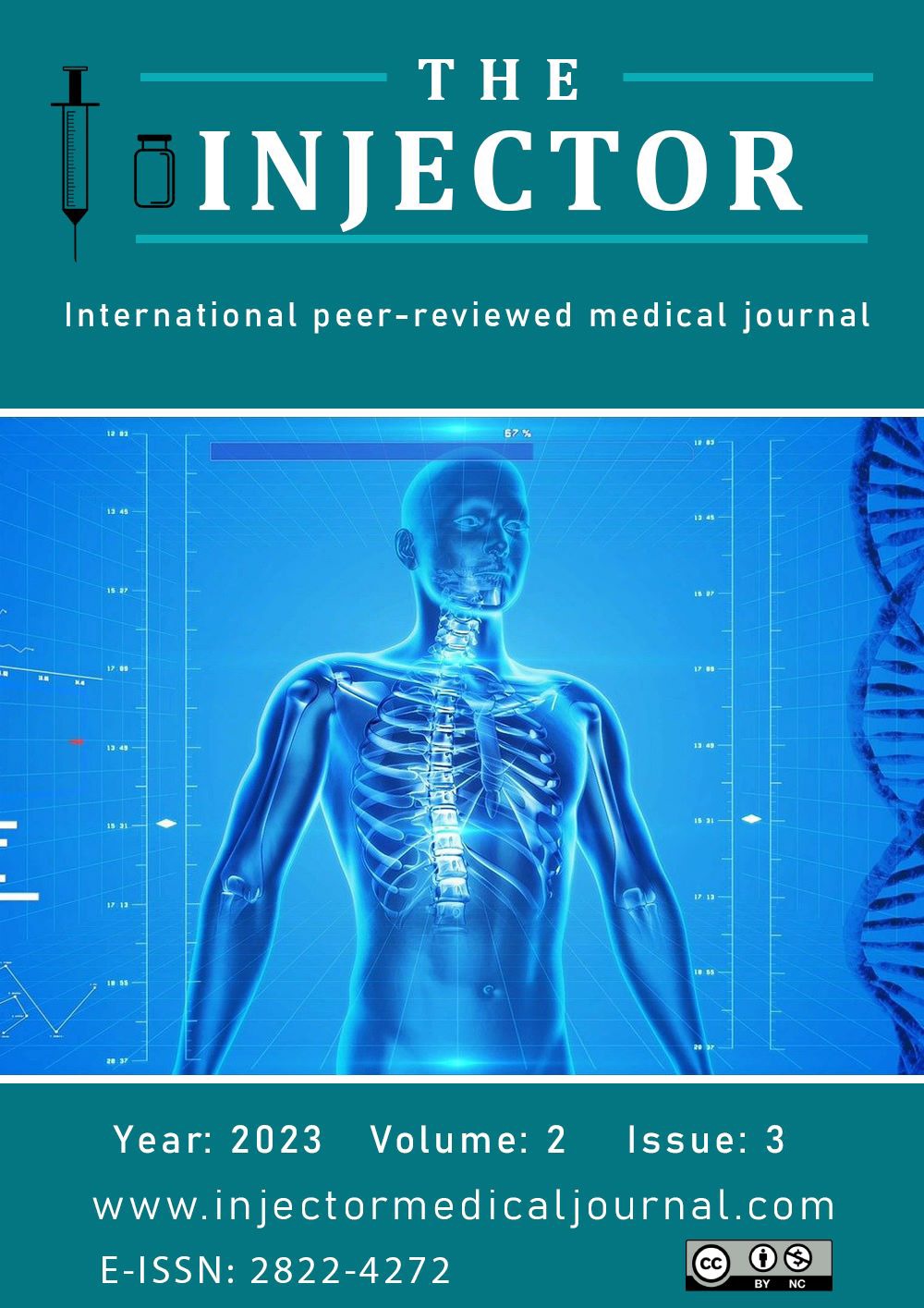 Downloads
How to Cite
Kayıkçıoğlu, H. (2023). Colorectal cancer awareness among healthcare workers: implications for early detection: Colorectal cancer awareness among healthcare workers. The Injector, 2(3), 163–169. https://doi.org/10.5281/zenodo.8393747
License
Copyright (c) 2023 The Injector
This work is licensed under a Creative Commons Attribution-NonCommercial 4.0 International License.