Assessment of tumor size changes following neoadjuvant chemotherapy for patients with N3 nasopharyngeal carcinoma
Tumor size changes in N3 nasopharyngeal carcinoma
Keywords:
N3 nasopharyngeal carcinoma, neoadjuvant chemotherapy, radiation therapy
Abstract
Objective: Nasopharyngeal cancers are among the most frequent head and neck cancers. Advanced disease at initial presentation is not uncommon partly due to the relatively deep and hidden location of the nasopharyngeal cavity. The most common practice for the management of locally advanced disease includes the administration of concurrent chemoradiotherapy followed by adjuvant chemotherapy, however, the utility of neoadjuvant chemotherapy particularly in the presence of high-risk, advanced nasopharyngeal cancers has also been suggested. Herein, tumor size changes following neoadjuvant chemotherapy for patients with N3 nasopharyngeal cancer is assessed with consideration of clinical implications.
Methods: A total of 15 patients with N3 nasopharyngeal carcinoma were assessed. All patients received upfront neoadjuvant chemotherapy and were then referred for definitive chemoradiotherapy at the Department of Radiation Oncology at Balikesir Ataturk City Hospital, Turkey. For comparative evaluation, tumor sizes were calculated from the diagnostic imaging of the patients at initial presentation and from the CT-simulation images which have been acquired for radiation treatment planning after neoadjuvant chemotherapy. Tumor sizes before and after neoadjuvant chemotherapy were documented.
Results: A comparative analysis was performed for tumor sizes at diagnostic imaging at initial presentation and at CT simulation for radiation treatment planning after neoadjuvant chemotherapy, and the mean reduction in tumor size after neoadjuvant chemotherapy was found to be 33%.
Conclusion: The result of this study may have clinical implications and the utilized therapeutic strategy including upfront neoadjuvant chemotherapy may be suitable for the management of selected patients with N3 nasopharyngeal cancer despite the need for further supporting evidence.
References
Mahdavifar N, Ghoncheh M, Mohammadian-Hafshejani A, Khosravi B, Salehiniya H. Epidemiology and Inequality in the Incidence and Mortality of Nasopharynx Cancer in Asia. Osong Public Health Res Perspect. 2016;7(6):360-372.
Cao SM, Simons MJ, Qian CN. The prevalence and prevention of nasopharyngeal carcinoma in China. Chin J Cancer. 2011;30(2):114-9.
Mao YP, Xie FY, Liu LZ, Sun Y, Li L, Tang LL, et al. Re-evaluation of 6th edition of AJCC staging system for nasopharyngeal carcinoma and proposed improvement based on magnetic resonance imaging. Int J Radiat Oncol Biol Phys. 2009;73(5):1326-34.
Al-Sarraf M, LeBlanc M, Giri PG, Fu KK, Cooper J, Vuong T, et al. Chemoradiotherapy versus radiotherapy in patients with advanced nasopharyngeal cancer: phase III randomized Intergroup study 0099. J Clin Oncol. 1998;16(4):1310-7.
Blanchard P, Lee A, Marguet S, Leclercq J, Ng WT, Ma J; MAC-NPC Collaborative Group. Chemotherapy and radiotherapy in nasopharyngeal carcinoma: an update of the MAC-NPC meta-analysis. Lancet Oncol. 2015;16(6):645-55.
Dicleli M, Alabalık U, Bıçak T, Yıldız G, Sertakan H, Nacir M. Plasmacytoma: A Rare Case of Bone Malignancy. Journal of Clinical Trials and Experimental Investigations. 2022;1(1): 17-21.
Demiral S, Sager O, Dincoglan F, Uysal B, Gamsiz H, Elcim Y et al. Evaluation of breathing-adapted radiation therapy for right-sided early stage breast cancer patients. Indian J Cancer. 2021;58(2):195-200.
Sager O, Dincoglan F, Demiral S, Uysal B, Gamsiz H, Colak O, et al. Concise review of stereotactic irradiation for pediatric glial neoplasms: Current concepts and future directions. World J Methodol. 2021;11(3):61-74
Sager O, Dincoglan F, Demiral S, Gamsiz H, Uysal B, Ozcan F, et al. Optimal timing of thoracic irradiation for limited stage small cell lung cancer: Current evidence and future prospects. World J Clin Oncol. 2022;13(2):116-12.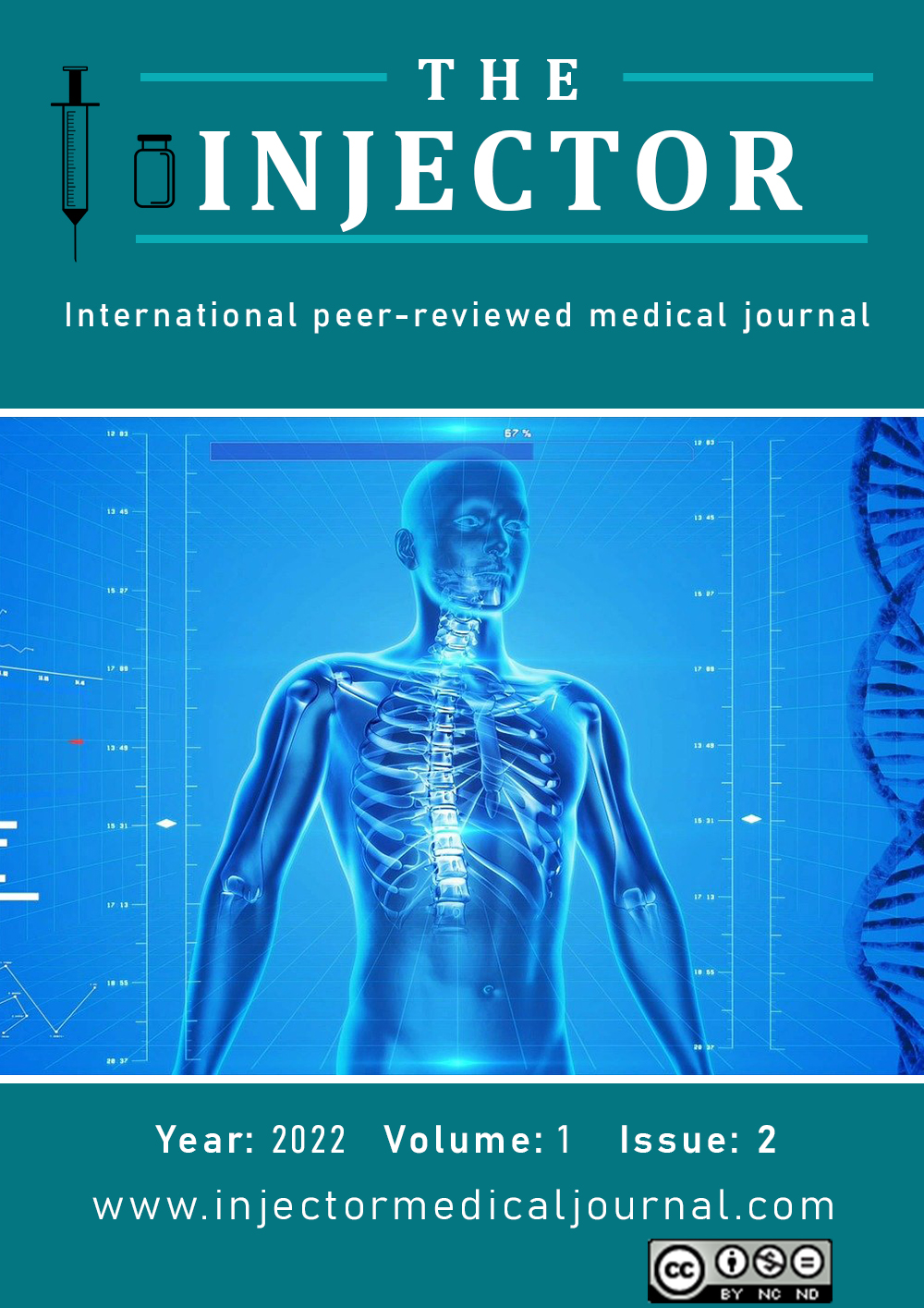 Downloads
How to Cite
Akın, M., & Düzova, M. (2022). Assessment of tumor size changes following neoadjuvant chemotherapy for patients with N3 nasopharyngeal carcinoma: Tumor size changes in N3 nasopharyngeal carcinoma . The Injector, 1(2), 80–83. https://doi.org/10.5281/zenodo.7038924
License
Copyright (c) 2022 The Injector
This work is licensed under a Creative Commons Attribution-NonCommercial 4.0 International License.