The relationship between COVID-19 and pneumothorax in patients hospitalized during the pandemic
COVID-19 and pneumothorax
Keywords:
ARDS, COVID-19, pandemic, pneumothorax
Abstract
Objective: We aimed to determine the incidence, demographic characteristics, and risk factors of "spontaneous pneumothorax (SP)" that we detected in severe COVID-19 patients with acute respiratory distress (ARDS) who were followed up in the intensive care unit (ICU) of our hospital.
Methods: This is a retrospective observational study conducted on adult COVID-19 patients admitted to our hospital between March 11, 2020, and December 31, 2021. The cases were patients who were hospitalized in the ICU with the diagnosis of COVID-19 and developed pneumothorax. Chest radiography (CXR) and computed tomography (CT) were used to diagnose pneumothorax. The medical records contained detailed demographic information, radiography images, laboratory data, and information on treatment management and survival.
Results: A total of 20 patients hospitalized in the ICU with the diagnosis of COVID-19 developed pneumothorax. Of these patients, 11 (55%) were male and 9 (45%) were female. Based on our findings, 90% of the patients developed spontaneous pneumothorax during their COVID-19 disease and 10% during their post-COVID follow-up. The radiologic examination of pneumothorax patients revealed that 70% were right-sided, 15% were left-sided, and 15% were bilateral. Regarding the treatment protocol of the patients, chest drain treatment was used in 85%, while 15% were followed up with oxygen treatment. The incidence of pneumothorax was higher in males.
Conclusion: These cases suggest that pneumothorax is a complication of COVID-19. Spontaneous pneumothorax is a rare complication of COVID-19 viral pneumonia. Sudden clinical changes in patients during intensive care follow-up should be considered a preliminary diagnosis. Clinicians should be careful about the diagnosis and treatment of this complication.
References
- Roberts DJ, Leigh-Smith S, Faris PD, Blackmore C, Ball CG, Robertson HL, Dixon E, James MT, Kirkpatrick AW, Kortbeek JB, Stelfox HT. Clinical Presentation of Patients With Tension Pneumothorax: A Systematic Review. Ann Surg. 2015 Jun;261(6):1068-78.
- Jenkinson SG. Pneumothorax. Clin Chest Med. 1985 Mar;6(1):153-61.
- John J, Seifi A. Incidence of iatrogenic pneumothorax in the United States in teaching vs. non-teaching hospitals from 2000 to 2012. J Crit Care. 2016 Aug;34:66-68.
- Tocino I, Westcott JL. Barotrauma. Radiol Clin North Am. 1996 Jan;34(1):59-81.
- Brogna B, Bignardi E, Salvatore P, Alberigo M, Brogna C, Megliola A, Fontanella G, Mazza EM, Musto L. Unusual presentations of COVID-19 pneumonia on CT scans with spontaneous pneumomediastinum and loculated pneumothorax: A report of two cases and a review of the literature. Heart Lung. 2020 Nov-Dec;49(6):864-868.
- WHO: Coronavirus disease 2019 (COVID 19) Situation Report. https://www.who.int/emergencies/diseases/novel coronavirus 2019/situation reports/. Updated September 28, 2020.
- Dreyfuss D, Saumon G. Effets délétères de la ventilation mécanique sur le poumon profond [Deleterious effects of mechanical ventilation on the lower lung]. Rev Mal Respir. 1995;12(6):551-557.
- Miller MP, Sagy M. Pressure characteristics of mechanical ventilation and incidence of pneumothorax before and after the implementation of protective lung strategies in the management of pediatric patients with severe ARDS. Chest. 2008 Nov;134(5):969-973.
- Paulson TE, Spear RM, Silva PD, Peterson BM. High-frequency pressure-control ventilation with high positive end-expiratory pressure in children with acute respiratory distress syndrome. J Pediatr. 1996 Oct;129(4):566-573.
- Quincho-Lopez A, Quincho-Lopez DL, Hurtado-Medina FD. Case Report: Pneumothorax and Pneumomediastinum as Uncommon Complications of COVID-19 Pneumonia-Literature Review. Am J Trop Med Hyg. 2020 Sep;103(3):1170-1176.
- Alhakeem A, Khan MM, Al Soub H, Yousaf Z. Case Report: COVID-19-Associated Bilateral Spontaneous Pneumothorax-A Literature Review. Am J Trop Med Hyg. 2020 Sep;103(3):1162-1165.
- Yao W, Wang T, Jiang B, Gao F, Wang L, Zheng H, et al. Emergency tracheal intubation in 202 patients with COVID-19 in Wuhan, China: lessons learnt and international expert recommendations. Br J Anaesth. 2020 Jul;125(1):e28-e37.
- Dai J, Zhou X, Dong D, Liu Y, Gu Q, Zhu B, Wu C, Cai H. Human infection with a novel avian-origin influenza A (H7N9) virus: serial chest radiographic and CT findings. Chin Med J (Engl). 2014;127(12):2206-2211.
- López-Rivera F, Colón Rivera X, González Monroig HA, Garcia Puebla J. Pneumomediastinum and Pneumothorax Associated with Herpes Simplex Virus (HSV) Pneumonia. Am J Case Rep. 2018 Jan 30;19:109-113.
- She WH, Chok KSH, Li IWS, Ma KW, Sin SL, Dai WC, Fung JYY, Lo CM. Pneumocystis jirovecii-related spontaneous pneumothorax, pneumomediastinum and subcutaneous emphysema in a liver transplant recipient: a case report. BMC Infect Dis. 2019 Jan 18;19(1):66.
- Akdogan RE, Mohammed T, Syeda A, Jiwa N, Ibrahim O, Mutneja R. Pneumothorax in Mechanically Ventilated Patients with COVID-19 Infection. Case Rep Crit Care. 2021 Jan 11;2021:6657533.
- Spiro JE, Sisovic S, Ockert B, Böcker W, Siebenbürger G. Secondary tension pneumothorax in a COVID-19 pneumonia patient: a case report. Infection. 2020 Dec;48(6):941-944.
- Rohailla S, Ahmed N, Gough K. SARS-CoV-2 infection associated with spontaneous pneumothorax. CMAJ. 2020 May 11;192(19):E510.
- Al-Azzawi M, Douedi S, Alshami A, Al-Saoudi G, Mikhail J. Spontaneous Subcutaneous Emphysema and Pneumomediastinum in COVID-19 Patients: An Indicator of Poor Prognosis? Am J Case Rep. 2020 Jul 24;21:e925557.
- Goldman N, Ketheeswaran B, Wilson H. COVID-19-associated pneumomediastinum. Clin Med (Lond). 2020 Jul;20(4):e91-e92.
- Bavaro DF, Poliseno M, Scardapane A, Belati A, De Gennaro N, Stabile Ianora AA, et al. Occurrence of Acute Pulmonary Embolism in COVID-19-A case series. Int J Infect Dis. 2020 Sep;98:225-226.
- Zantah M, Dominguez Castillo E, Townsend R, Dikengil F, Criner GJ. Pneumothorax in COVID-19 disease- incidence and clinical characteristics. Respir Res. 2020 Sep 16;21(1):236.
- Aujayeb A. Pneumothorax and pneumomediastinum in COVID-19. Clin Med (Lond). 2022 Jul;22(Suppl 4):51.
- Shaikh N, Al Ameri G, Shaheen M, Abdaljawad WI, Al Wraidat M, Al Alawi AAS,et al. Spontaneous pneumomediastinum and pneumothorax in COVID-19 patients: A tertiary care experience. Health Sci Rep. 2021 Jul 30;4(3):e339.
- Gattinoni L, Bombino M, Pelosi P, Lissoni A, Pesenti A, Fumagalli R, Tagliabue M. Lung structure and function in different stages of severe adult respiratory distress syndrome. JAMA. 1994 Jun 8;271(22):1772-9.
- Albelda SM, Gefter WB, Kelley MA, Epstein DM, Miller WT. Ventilator-induced subpleural air cysts: clinical, radiographic, and pathologic significance. Am Rev Respir Dis. 1983 Mar;127(3):360-365.
- Gammon RB, Shin MS, Buchalter SE. Pulmonary barotrauma in mechanical ventilation. Patterns and risk factors. Chest. 1992 Aug;102(2):568-572.
- Woodside KJ, vanSonnenberg E, Chon KS, Loran DB, Tocino IM, Zwischenberger JB. Pneumothorax in patients with acute respiratory distress syndrome: pathophysiology, detection, and treatment. J Intensive Care Med. 2003 Jan-Feb;18(1):9-20.
- Coppola S, Pozzi T, Busana M, Bichi F, Camponetti V, Chiumello D. Oesophageal manometry and gas exchange in patients with COVID-19 acute respiratory distress syndrome. Br J Anaesth. 2020 Nov;125(5):e437-e438.
- McGuinness G, Zhan C, Rosenberg N, Azour L, Wickstrom M, Mason DM, et al. Increased Incidence of Barotrauma in Patients with COVID-19 on Invasive Mechanical Ventilation. Radiology. 2020 Nov;297(2):E252-E262.
- Abushahin A, Degliuomini J, Aronow WS, Newman T. A Case of Spontaneous Pneumothorax 21 Days After Diagnosis of Coronavirus Disease 2019 (COVID-19) Pneumonia. Am J Case Rep. 2020 Aug 15;21:e925787.
- Mallick T, Dinesh A, Engdahl R, Sabado M. COVID-19 Complicated by Spontaneous Pneumothorax. Cureus. 2020 Jul 9;12(7):e9104.
- Janssen ML, van Manen MJG, Cretier SE, Braunstahl GJ. Pneumothorax in patients with prior or current COVID-19 pneumonia. Respir Med Case Rep. 2020;31:101187.
- Eperjesiova B, Hart E, Shokr M, Sinha P, Ferguson GT. Spontaneous Pneumomediastinum/Pneumothorax in Patients With COVID-19. Cureus. 2020 Jul 3;12(7):e8996.
- do Lago VC, Cezare TJ, Fortaleza CMCB, Okoshi MP, Baldi BG, Tanni SE. Does COVID-19 Increase the Risk for Spontaneous Pneumothorax? Am J Med Sci. 2020 Dec;360(6):735-737.
- Liu K, Zeng Y, Xie P, Ye X, Xu G, Liu J, Wang H, Qian J. COVID-19 with cystic features on computed tomography: A case report. Medicine (Baltimore). 2020 May;99(18):e20175.
- Qin C, Zhou L, Hu Z, Zhang S, Yang S, Tao Y, et al. Dysregulation of Immune Response in Patients With Coronavirus 2019 (COVID-19) in Wuhan, China. Clin Infect Dis. 2020 Jul 28;71(15):762-768.
- Giamarellos-Bourboulis EJ, Netea MG, Rovina N, Akinosoglou K, Antoniadou A, Antonakos N, et al. Complex Immune Dysregulation in COVID-19 Patients with Severe Respiratory Failure. Cell Host Microbe. 2020 Jun 10;27(6):992-1000.e3.
- Ye Q, Wang B, Mao J. The pathogenesis and treatment of the `Cytokine Storm' in COVID-19. J Infect. 2020 Jun;80(6):607-613.
- Sihoe AD, Wong RH, Lee AT, Lau LS, Leung NY, Law KI,et al. Severe acute respiratory syndrome complicated by spontaneous pneumothorax. Chest. 2004 Jun;125(6):2345-2351.
- Hallifax R, Janssen JP. Pneumothorax-Time for New Guidelines? Semin Respir Crit Care Med. 2019 Jun;40(3):314-322.
- Slade M. Management of pneumothorax and prolonged air leak. Semin Respir Crit Care Med. 2014 Dec;35(6):706-14.
- Martinelli AW, Ingle T, Newman J, Nadeem I, Jackson K, Lane ND, et al. COVID-19 and pneumothorax: a multicentre retrospective case series. Eur Respir J. 2020 Nov 19;56(5):2002697.
- Zantah M, Dominguez Castillo E, Townsend R, Dikengil F, Criner GJ. Pneumothorax in COVID-19 disease- incidence and clinical characteristics. Respir Res. 2020 Sep 16;21(1):236.
- Nistor CE, Gavan CS, Pantile D, Tanase NV, Ciuche A. Cervico-Thoracic Air Collections in COVID-19 Pneumonia Patients - Our Experience and Brief Review. Chirurgia (Bucur). 2022 Jun;117(3):317-327.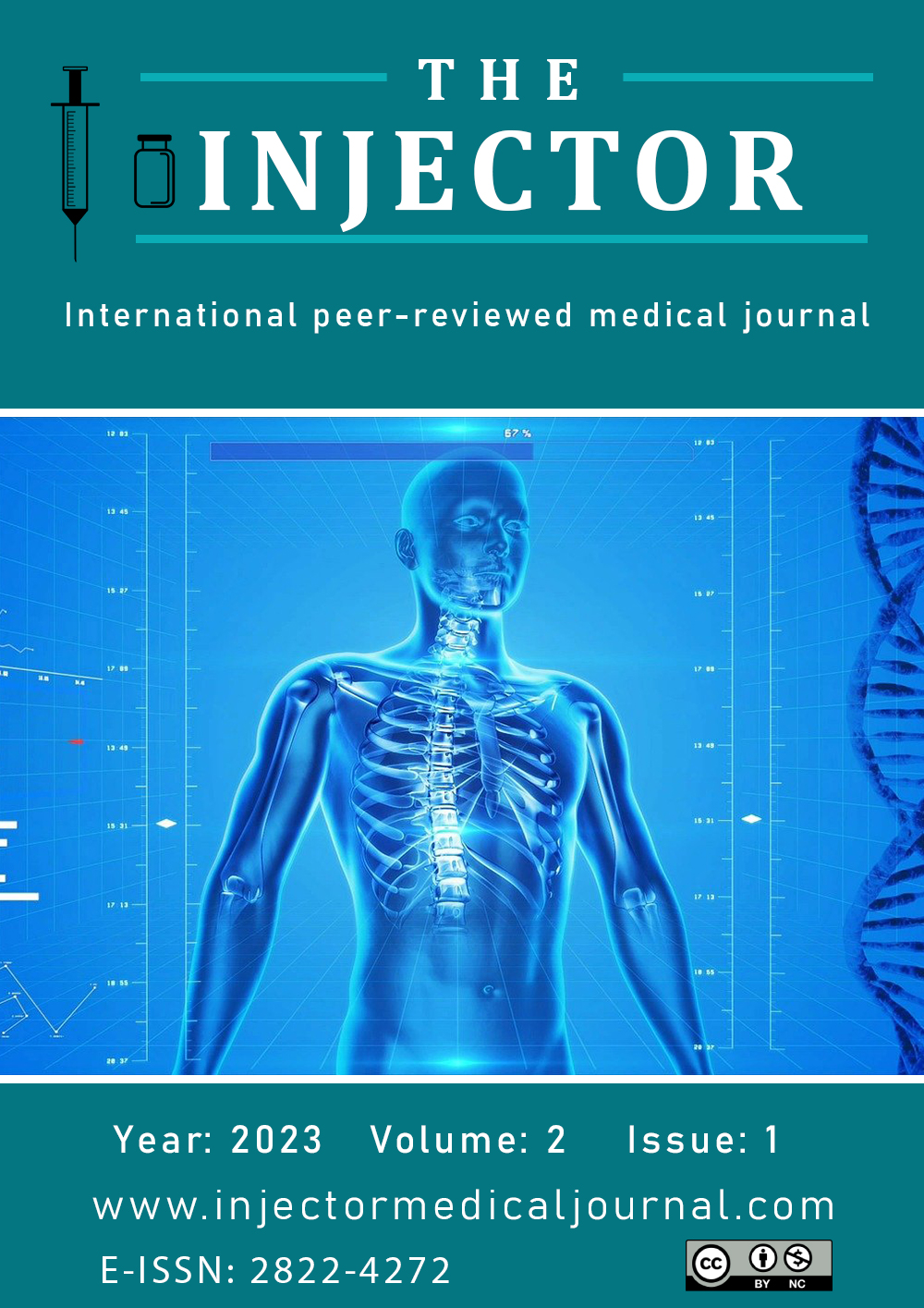 Downloads
How to Cite
Topcu , H. ., Boyacı, H., Özer, D. ., Akdağlı Ekici, A. ., & Özçiftçi, S. (2023). The relationship between COVID-19 and pneumothorax in patients hospitalized during the pandemic: COVID-19 and pneumothorax. The Injector, 2(1), 30–36. https://doi.org/10.5281/zenodo.7738618
License
Copyright (c) 2023 The Injector
This work is licensed under a Creative Commons Attribution-NonCommercial 4.0 International License.