Incidental lung findings on noncontrast computed tomography in patients presenting with renal and ureteric colic compliants
Incidental lung findings in patients with colic
Keywords:
Colic, computed tomography, incidental, lung findings, radiology, urolithiasis
Abstract
Objective: In patients presenting to the emergency department with flank pain suggestive of acute colic, most centers worldwide are increasingly using computed tomography (CT) to evaluate renal/ureteric colic. This study was conducted to determine the incidental pulmonary findings in computed tomography performed for suspected renal and ureteric colic.
Methods: We retrospectively reviewed consecutive patients referred to our clinic with a prediagnosis of urolithiasis who underwent noncontrast abdominal CT between August 2022 and August 2023. In this study, we included 286 patients to evaluate pulmonary findings.
Results: Of the 286 patients, 212 (74.2%) were male and 74 (25.8%) were female. The mean age of the patients was 50.55±14.95 years. While 20% of the patients were 65 years of age or older, 80% were under 65 years of age. Tomographic evaluation of the lungs showed one or more findings in 34% (98) of the patients included in the study. The most common tomographic finding in the lungs was fibrotic changes in 12.9% (37), while the least common finding was bronchiectatic changes in only one patient (3.5%). Other incidental lung findings included atelectasis, lung nodules, effusion, increased pleural thickness, consolidation, ground glass appearance, infiltration, emphysematous lung changes, air cysts and lung mass, which were observed in three patients.
Conclusion: Incidental findings are often encountered in abdominal CT scans performed with a different diagnosis. Most of these findings are clinically insignificant. However, given that the clinical significance of incidental findings may increase with age or may lead us to a new diagnosis not previously known to the patient, findings of the lung parenchyma in the imaging field should be included in the radiological reporting of abdominal CT scans.
References
Mortani Barbosa EJ, Osuntokun O. Incidental findings in thoracic CTs performed in trauma patients: an underestimated problem. Eur Radiol. 2019;29:6772-9.
Meyer HJ, Schramm D, Bach AG, Beeskow A, Surov A. Cardiovascular findings on computed tomography in patients with unclear finding situation and trauma of unknown origin. Medicine (Baltimore). 2017;96:8263.
Kroczek EK, Wieners G, Steffen I, Lindner T, Streitparth F, Hamm B, et al. Non-traumatic incidental findings in patients undergoing whole-body computed tomography at initial emergency admission. Emerg Med J. 2017;34:643-6.
Lai WA, Liu PH, Tsai MJ, Huang YC. Frequency, Recognition, and Potential Risk Factors of Incidental Findings on Trauma Computed Tomography Scans: A Cross-Sectional Study at an Urban Level One Trauma Center. J Acute Med. 2020;10:106-14.
Chowdhury D. Does a fall from a standing height warrant computed tomography in an elderly patient with polytrauma? World J Emerg Med. 2023;14:302-6.
Turney BW, Reynard JM, Noble JG, Keoghane SR. Trends in urological stone disease. BJU Int. 2012;109:1082–7.
Flannigan R, Choy WH, Chew B, Lange D. Renal struvite stones– pathogenesis, microbiology, and management strategies. Nat Rev Urol. 2014;11:333–41.
Paluska TR, Sise MJ, Sack DI, Sise CB, Egan MC, Biondi M. Incidental CT findings in Trauma patients: incidence and implications for care of the injured. Western Journal of Emergency Medicine. 2007;62:157–61.
Munk MD, Peitzman AB, Hostler DP, Wolfson AB. Frequency and follow-up of incidental findings on Trauma computed tomography scans: experience at a level one Trauma center. Journal of Emergency Medicine. 2010;38:346–50.
Thompson RJ, Wojcik SM, Grant WD, Ko PY. Incidental Findings on CT Scans in the Emergency Department. Emerg Med Int. 2011;2011:624847.
Savin Z, Dekalo S, Schreter E, Ben-David R, Masarwa I, Cahen-Peretz A, et al. Emergency department non-contrast computed tomography for suspicion of obstructive urolithiasis: Yield and consequences. Can Urol Assoc J. 2022;16:386-90.
Messersmith WA, Brown DF, Barry MJ. The prevalence and implications of incidental findings on ED abdominal CT scans. Am J Emerg Med. 2001;19:479-81.
Wolf SM, Lawrenz FP, Nelson CA, Kahn JP, Cho MK, Clayton EW, et al. Managing incidental findings in human subjects research: analysis and recommendations. J Law Med Ethics. 2008;36:219-48.
Devine AS, Jackson CS, Lyons L, Mason JD. Frequency of incidental findings on computed tomography of trauma patients. West J Emerg Med. 2010;11:24-7.
Belloni E, Tentoni S, Fiorina I, Bortolotto C, Bottinelli O , Cellina M, et al. Reported and Unreported Potentially Important Incidental Findings in Urgent Nonenhanced Abdominal CT for Renal Colic. Med Princ Pract. 2021;30:355-60.
Wood L, Martin C, Polly D, Luchsinger S, Takahashi T. Incidental extraspinal imaging findings on adult EOS full body radiographs: prevalence and clinical importance. BMC Med Imaging. 2021;21:83.
Hayward R. VOMIT (victims of modern imaging technology)—an acronym for our times. BMJ. 2003;326:1273.
Emekli E, Gündoğdu E. Evaluation of the frequency of incidental findings and their clinical significance in multiparametric prostate magnetic resonance imaging examination. Pol J Radiol. 2022;87:409-14.
Niedermeier S, Wania R, Lampart A, Robert Stahl , Christoph Trumm , Christian Kammerlander, et al. Incidental CT Findings in the Elderly with Low-Energy Falls: Prevalence and Implications. Diagnostics (Basel). 2022;12:354.
Fauvel DA, Bischof JJ, Reinbolt RE, Weihing VK, Boyer EW, Caterino JM, et al. Diagnosis of cancer in the Emergency Department: A scoping review. Cancer Med. 2023;12:8710-28.
Hedstrom GH, Hooker ER, Howard M, Shull S, Golden SE, Deffebach ME, et al. The Chain of Adherence for Incidentally Detected Pulmonary Nodules after an Initial Radiologic Imaging Study: A Multisystem Observational Study. Ann Am Thorac Soc. 2022;19:1379-89.
Yan G, Li H, Fan X, Deng J, Yan J, Qiao F, et al. Multimodality CT imaging contributes to improving the diagnostic accuracy of solitary pulmonary nodules: a multi-institutional and prospective study. Radiol Oncol. 2023;57:20-34.
McDonald JS, Koo CW, White D, Hartman TE, Bender CE, Sykes AG. Addition of the Fleischner Society Guidelines to Chest CT Examination Interpretive Reports Improves Adherence to Recommended Follow-up Care for Incidental Pulmonary Nodules. Acad Radiol. 2017;24:337-44.
Hammer MM, Palazzo LL, Kong CY, Hunsaker AR. Cancer Risk in Subsolid Nodules in the National Lung Screening Trial. Radiology. 2019;293:441-8.
Bonney A, Malouf R, Marchal C, Manners D, Fong KM, Marshall HM, et al. Impact of low-dose computed tomography (LDCT) screening on lung cancer-related mortality. Cochrane Database Syst Rev. 2022;8:CD013829.
Hammer MM, Hunsaker AR. Strategies for Reducing False-Positive Screening Results for Intermediate-Size Nodules Evaluated Using Lung-RADS: A Secondary Analysis of National Lung Screening Trial Data. AJR Am J Roentgenol. 2022;219:397-405.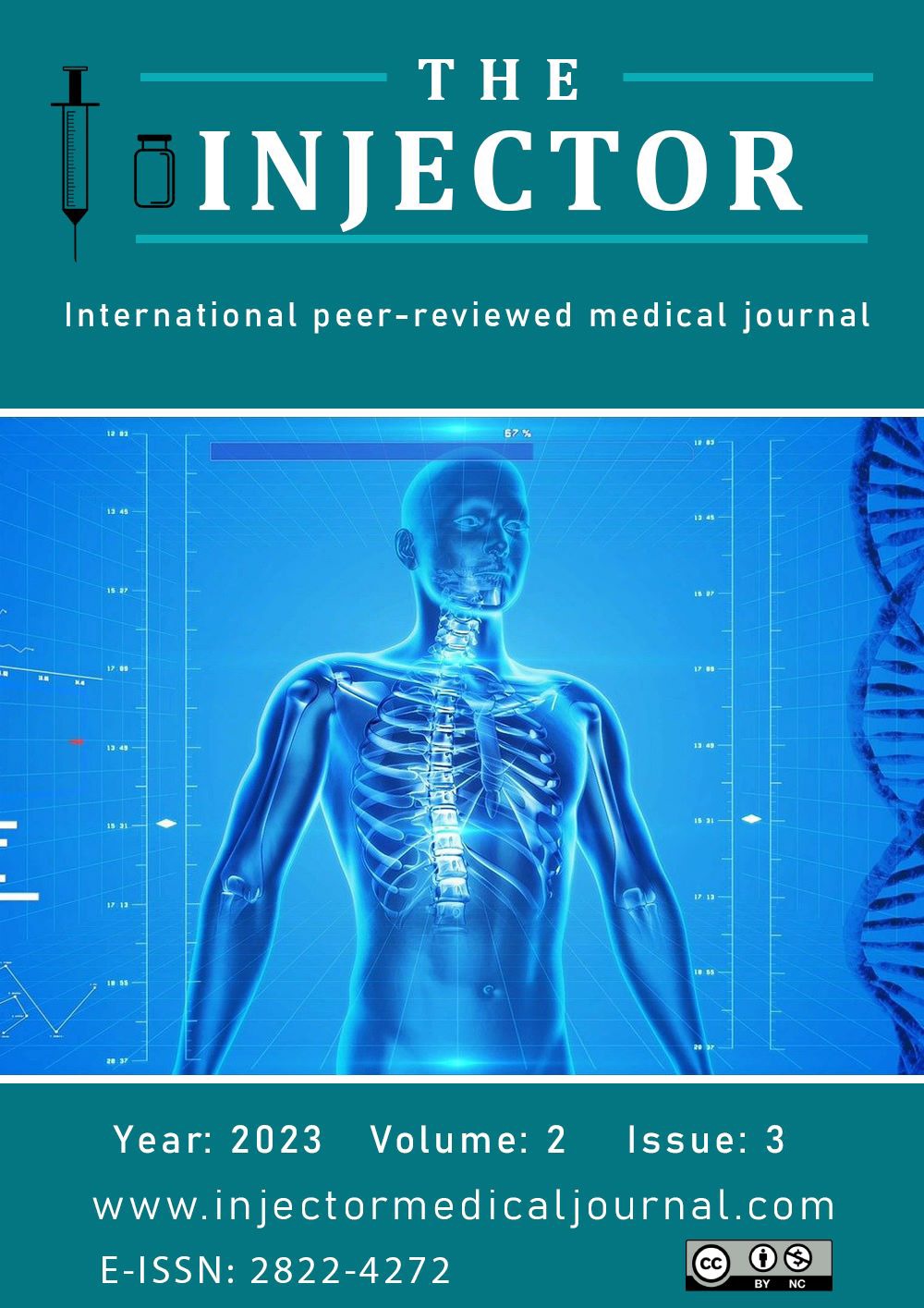 Downloads
How to Cite
Özdemir Akdur, P. (2023). Incidental lung findings on noncontrast computed tomography in patients presenting with renal and ureteric colic compliants: Incidental lung findings in patients with colic. The Injector, 2(3), 246–252. https://doi.org/10.5281/zenodo.10031972
License
Copyright (c) 2023 The Injector
This work is licensed under a Creative Commons Attribution-NonCommercial 4.0 International License.